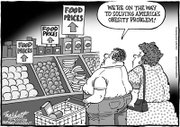 With modern agricultural practices in our state and across the nation under attack, growers are standing up for legal and appropriate use of the chemical tools that make conventional farms successful.
The ongoing battle is being fought over federal protections for endangered species that may be harmed by agricultural pesticides. It's not a new story, to be sure.
From my perspective, I don't believe the path forward lies in overhauling the law that protects threatened wildlife, the Endangered Species Act. While some farmers may not like it, that debate is over. The law requires measured, effective safeguards for endangered fish and animal populations.
For me, the question is: are we taking the right steps to protect endangered species? Or are environmental advocates attacking agriculture because farmers make an easy target?
Here in Washington, the story has played out around threatened salmon and the possible impacts of agricultural pesticides on recovering salmon runs. At the Washington State Department of Agriculture, we've been studying the issue for nearly a decade.
Working closely with our colleagues at the Department of Ecology, WSDA researchers have been analyzing surface water in agricultural areas, looking for signs of pesticides or pesticide legacy chemicals that are impacting fish populations. During our period of study, the data show that the levels of pesticides found in salmon-bearing streams would not directly affect the health of endangered fish.
And yet, the biologists at the National Marine Fisheries Service lend more credence to "modeling" as opposed to real-world monitoring data that reflects today's agricultural practices. These federal scientists play a central role in determining what changes in pesticide use are required to protect salmon.
Those models could have a real impact on Washington agriculture - altering current practices on up to 75 percent of farmland in some areas. If Fisheries has its way, buffers up to 1,000 feet wide would prohibit the use of certain pesticides around streams and ditches running through farmland. Remember, that's without any data to show that salmon populations would benefit. Ongoing litigation keeps those new buffer requirements on hold.
There have been a few glimmers of hope. Recent conversations with our federal partners have proved to be constructive as we seek to find a reasonable way forward.
After six years of deliberation, the Environmental Protection Agency, the federal pesticide regulator, recently determined that WSDA scientists are generating the kind of water quality data suitable for making pesticide registration decisions.
And Fisheries biologists have now told us what level of pesticide residues they believe to be harmful for salmon populations, giving us a hard target at which to shoot.
But now we're moving into a new era when this issue moves beyond the northwest to become a major national controversy. An environmental group has filed suit against the EPA this year, claiming that the agency has not taken the required steps to protect more than 200 endangered species from the effects of unintended exposure to more than 300 pesticides.
If the lawsuit is successful, the existing regulatory framework would require a wildlife or fisheries biologist to perform a detailed impact study for every one of those farm chemicals on every potentially impacted threatened species. Now imagine that immense workload during an era of declining federal budgets that we'll be navigating for years to come. It's a recipe for disaster.
The lawsuit has already had one striking effect: it's awakened the national agriculture community. Because this story will be played out in every major agricultural production area in the nation, concern among farmers has spread like wildfire.
My colleagues, the heads of other state agriculture departments, are hearing from their stakeholders. In May, our Congressman Doc Hastings, Chairman of the House Natural Resources Committee, convened a joint hearing with his colleagues on the House Agriculture Committee on this issue. More outside scrutiny of the pesticide review process is coming, this time from the National Academy of Sciences.
We're going to continue to raise our voices. WSDA water quality research shows that growers have been responsible users of agricultural pesticides. Farmers need the right chemicals in the toolbox to combat harmful plant pests and diseases. Consumers demand high-quality, abundant foods and our international trading partners require us to certify that our exports are pest free.
- Dan Newhouse of Sunnyside is director of the Washington State Department of Agriculture. He and his wife, Carol, farm 600 acres in Yakima County.