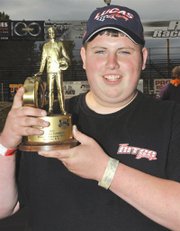 Stepping into the small office of John Dalrymple, owner of Cliff's Septic Tank Service in Sunnyside, a person is immediately aware of several golden statues of a man.
These are called Wallys, named after Wally Parks, who was the founder of the National Hot Rod Association. A drag racer receives the coveted trophy only after winning a divisional race, or if their lucky enough, a national NHRA race.
Dalrymple has won several, 12 at last count, after winning a Division 6 race in Mission, B.C., Canada this past Memorial Day weekend. His son Michael has 10, but the most special trophy in the Dalrymple household for the time being is the one his 16-year-old son, Josh, won at the same Memorial Day competition.
Dalrymple has another son, Bryan (known as Bubba), who used to race and has a Wally, as well. If he ever came back into the fold, the elder Dalrymple just might have to build a warehouse to house all of the family's Wallys. The family's youngest son is already racing on the junior circuit at Renegade Raceways in Parker. When he starts racing with the big boys, watch out.
But the big buzz is Josh's Wally. The excitement is because this was his first race ever in Division racing, having just received his NHRA racing license two weeks prior to the race in Mission.
"He beat some guys I've lost to years ago," John Dalrymple said.
Josh's day started out against Robert Smyth of Renton. The 16-year-old races in the Super Street division and dialed in his car at 10.90. This means he can't finish the quarter-mile race in under that time.
The teenager beat Smyth and surprised everyone.
"I was happy, but surprised," Josh said.
"We all were," his father added.
Josh ran a 10.931 to Smyth's 10.936.
Before the race the younger Dalrymple was nervous, as could be expected. But he said after that first win the nerves went away.
Wally Parks must have been smiling on Josh Dalrymple that day, because he won his next four races to claim his first Division 6 title with a little bit of luck.
In the second round he beat Warren Jacobson of Abbotsford, B.C. Jacobson finished the race in 10.89 seconds, which means he 'broke out', finishing in less time than the required 10.90.
In the third round, Josh won again, this time beating Fred Hoffman of Shoreline. Both broke out, but Hoffman finished in 10.88 seconds and Josh's time was 10.89. Since Josh was closer to the limit of 10.90, he was awarded the win.
"Luck plays into a lot of racing," John Dalrymple said. "There also has to be skill in dialing in your car."
The car is constantly adjusted before each race as conditions, such as the weather, change.
In the fourth round Josh beat Brad Vinje of Langley, B.C. Josh broke out when he finished the race in 10.89 seconds, but Vinje red lighted, which means he started the race early, earning an automatic disqualification.
In the finals against Jess Dale of Bonney Lake, Josh cruised to the win in 12.58 seconds, hitting the finish line at 86 mph when he car can easily go 153 mph. The reason Josh took his time was because Dale also red lighted.
The victory gave Josh his first Wally, something he wasted little time in teasing his older brother Bubba, who doesn't race anymore.
"Josh came home and said, 'Hey Bubba, I won my first race and I'm already tied with you'," John Dalrymple laughed, noting Josh was talking about how many Wallys both his sons have.
But it's all in good fun and Josh said he's not going to get overconfident just because he won his first ever NHRA title.
"There is a saying in racing," John Dalrymple said. "You go from hero to zero."
But still, the feeling was good for the teenager.
"It was awesome, especially winning with my dad," Josh said.
The elder Dalrymple also was victorious. He races both in the Super Gas and Super Comp classes. He won the Super Gas division, but lost in the first round of the Super Comp class.
His other son Michael, who also races in both the Super Gas and Super Comp classes, lost in the second round in the Super Comp and lost in the first round of the Super Gas competition, ending his day early.
The older Dalrymple beat Curt Geise of Auburn in the first round of the Super Gas class. In this class, the cars are dialed in at 9.90. Dalrymple finished the race in 9.91 seconds, but Geise broke out with a time of 9.84.
In the second round Dalrymple beat Ed Hutchinson of Victoria, B.C. Hutchinson broke out in this race, too.
In the third round Dalrymple scored an easy win against Marv Wiebe of Abbotsford, B.C. when Wiebe red lighted.
In the fourth round Dalrymple beat Terry Wilcox of Sumner. Dalrymple ran a perfect 9.90, but it didn't matter, since Wilcox broke out with a time of 9.89.
In the finals Dalrymple was up against the No. 1 qualifier, Greg Hehr of Ravensdale, Wa. Dalrymple crossed the line first with a time of 10.10. Heher had a time of 10.90.
It was the elder Dalrymple's first win of the season, too.
"I was so calm," he said. "I think it was because Josh kept winning so I wasn't worried. Sometimes I can get excited and that's where I make mistakes."
The win gives Dalrymple a No. 1 ranking so far this year in Division 6. His son Josh, is ranked No. 5 in his class.
The Dalrymples will race next in Spokane this coming weekend, but are looking forward to a national race in Chicago in early July. Michael Dalrymple, who finished last season ranked No. 2 in the nation in Super Comp, will get an opportunity to be part of a special race, called the All-Star race, because he had the most points in Division 6 last year.
John Dalrymple finished last year ranked No. 8 in Super Gas and No. 5 in Super Comp. Both rankings were in Division 6.