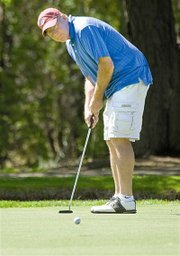 The trio of Tom Diener, Nolan Murray and Bob Barker led Black Rock Creek to a first-place finish last Thursday at the fifth stop on this summer's Mid-Columbia Senior Golf Tour.
The top finish by the Sunnyside-area team, its third in five competitions thus far in 2011, came on its home Black Rock Creek course. The local squad, seeking a fifth consecutive senior golf tour title, is atop this year's points standings with 71. The Tri-Cities' team from Columbia Point sits in second place in the 2011 standings with 66 points.
In earning the first-place finish last Thursday, Black Rock Creek shot an aggregate team score of 737. The Pendleton Country Club squad finished a distant second in Thursday's competition with a team score of 773. Columbia Point had the third low team score last week, tallying an aggregate 797.
Diener was the catalyst in Black Rock Creek's victory last Thursday. He carded a 6-over-par 78. There was only one round under that from the 107-player field, a 2-over-par 74 notched by Pat Conway.
Three of Diener's teammates also contributed mightily towards the first-place finish. Troy Monholland and Miles Plata each recorded a score of 84, and Phil Luther was one shot back at 85.
Murray and Barker were even more instrumental in Black Rock Creek's first-place finish. The two golfers shot four strokes below their established averages, posting handicap-aided 68's. The 68's were the second lowest net rounds on the day.
Murray, a 19-handicapper, posted an 87 for the 18-hole competition. Barker, who carries a handicap of 16, shot an 84.
Also recording rounds below their established handicaps were Black Rock Creek's Gary Lambdin, Les Schreiber and Doug Hall with net scores of 69, 71 and 71, respectively.
In the skins competition that day, Diener collected $31 for his birdie on the par-4, eighth hole; and Loran Hancock picked up the same pay day for a bird on the par-4, 16th.
Earning KP honors last Thursday for the Black Rock Creek team were Hall on No. 12, and Scott Andrews on No. 9. By sticking their tee shots closest to the pin, each of the two golfers came away with cash earnings of $30.
The next senior golf tour competition is slated for Wednesday, June 22, at Yakima's Apple Tree Golf Resort. Black Rock Creek seniors who want to golf that day must sign up in the local pro shop no later than Monday, June 20.