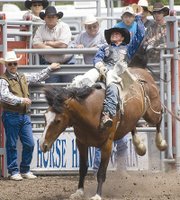 BICKLETON - Dozens upon dozens of cowboys and cowgirls showcased their skills at the sun-splashed Cleveland Park rodeo arena this past weekend.
The excitement was non-stop for the large crowd that turned out both days for Bickleton's annual Alder Creek Pioneer Picnic & Rodeo. This was the 101st year that the picnic and rodeo has been staged at Cleveland Park, nestled between the pines that stand just a short gallop down the road from the historic Horse Heavens farming community of Bickleton.
This year's Northwest Professional Rodeo Association contestants were vying for just over $20,000 in prize money. Although none of the competitors put together the kind of weekend that warranted all-around cowboy honors, several of the jeans-clad, boot stompin' athletes walked off with more than enough money to carry them to their next stop on the 2011 rodeo circuit.
The cowboy who not only garnered the loudest cheers and most thunderous applause, but also drew the biggest pay day last weekend, proved to be Benton City's Laine Baze. He drew a high-kickin', fast-swirling animal named Farnsworth. One of only two bull riders from the 22-cowboy field to stay aboard the dynamite-filled beast beneath them for the full eight seconds, Baze drew a much deserved score of 84 from the judges. That earned the Benton City bull rider first-place honors, as well as a paycheck totaling $1,132.
The one other cowboy who rode out his bull, After Burner, for all eight seconds was Cody Ford. He collected a score of 78 from the judges. The second-place finish netted him a check for $828.
The rodeo-faithful also got plenty of high-speed, ballet-like horse riding moves from this year's barrel racers. All told, a field of 55 cowgirls competed for a purse totaling $3,087.
In the end, it was Culver, Ore. barrel racer Deanne Bain who walked off with the top prize, $710. Bain spurred her horse around and through the clover leaf pattern in a time of 17.62 seconds, just four one-hundredths of a second quicker than the 17.66 clocking of runner-up Pamela Capper of Cheney. Capper earned the second-place prize of $617.
Six other barrel racers also cashed, including two women who call the Yakima Valley home. The local cowgirls earning paychecks were Yakima's Shane Spitzer and Mabton's own Cheyenne Allen. Spitzer, the fourth-place finisher with a clocking of 17.75 seconds, received $432. Allen, seventh in a time of 17.80 seconds, earned a pay check totaling $154.
The other barrel racers who cashed included Kym LaRoche of Arlington, third in 17.67 seconds ($524); Alyson Kennedy of Condon, Ore., fifth in 17.77 seconds ($339); Jodi Goodrich of Stanfield, Ore., sixth in 17.78 seconds ($247); and Kelli Kamm of Stanfield, eighth in 17.85 seconds ($61).
In the breakaway roping event, open to women as well as those cowboys who haven't yet passed their 14th birthday, Moses Lake's Caleb McMillan bested the 27-entry field with a lightning quick time of 2.7 seconds. McMillan collected $695 from the total breakaway roping purse of $2,398.
The five other contestants who went to the pay window, all cowgirls, included Alexis Doutre of Pendleton, Ore., second in 2.8 seconds ($575); Michelle Femrite of Ellensburg, third in 3.0 seconds ($455), Sammy Jo Cardoza of Terrebonne, Ore., fourth in 3.4 seconds ($335); Stevie Rae Willis of Terrebonne, fifth in 3.5 seconds ($215); and Kellie Wiersma of Outlook, sixth in 3.8 seconds ($119).
A field of 29 cowboys entered this year's tie down roping competition, vying for a total purse of $2,541. Coming away with the first-place prize of $736 was Stanfield's Brad Goodrich, who roped, flanked and tied his calf in an amazing 8.5 seconds.
The second through sixth-place finishers in tie down roping, respectively, included Brett Hale of Tenino, 8.8 seconds ($609); Shane Erickson of Terrebonne, 9.0 seconds ($482); Kurtis Barry of Roy, 9.4 seconds ($355); Andy Steffen of Salem, Ore., 10.0 seconds ($228); and Russell Cardoza of Terrebonne, 10.2 seconds ($127).
Four cowboys from a 13-entry field drew pay checks in the steer wrestling competition. Okanogan's Eli Knapp, who slammed his steer to the arena floor in an eye-blinking time of 5.2 seconds, took home the top prize of $560. Also cashing were Russell Cardoza of Terrebonne, second in 5.6 seconds ($420); BoDee Foster of Hepner, Ore, third in 6.7 seconds ($280); and Chase MacRae of Prosser, fourth in 7.5 seconds ($140).
The always hair-raising cow milking contest at Cleveland Park drew 10 entries this year. Terrebonne's Shane Erickson proved the speediest, completing his task in 49.9 seconds. He was awarded $627 for his efforts. The one other cowboy who cashed in the cow milking contest was Centerville's Jess Kayser with a clocking of 58.7 seconds. He received $418.
The competition that drew the most entries at the Bickleton-area rodeo was team roping. The top six finishing teams earned pay days from a pool of 70 cowboys.
The winners were Kelly Barker of Central Point and Tyler Getzwiller of Prineville, Ore. The duo roped their steer in 4.9 seconds, each earning $860.
Also taking home a check in the team roping competition were Tyler Bowman, an Outlook native who now lives in Hermiston, Ore., and Bill Justus of Haines, Ore., the runners-up in 6.6 seconds ($712 each); the father and son duo of Wade and Cody Jess of Coulee City, third in 7.2 seconds ($564 each); Brent Baggerly of Yakima and Justin Bowman of Sunnyside, fourth in 8.1 seconds ($415 each); Bryce Palmer of Milton-Freewater, Ore. and Garrett Jess of Coulee City, fifth in 11.0 seconds ($267 each); and Matt Funk of Hermiston and Bucky Campbell of Benton City, sixth in 11.2 seconds ($148 each).
Seven cowboys signed up for the bareback riding competition, with the top four earning prizes. There was a two-way tie for top honors. Noah Bayes of Adrian, Ore., aboard a mount named Short Fuse, and Jared Bain of Haines, Ore., riding a bronc called Spit Fire, each earned scores of 67 from the judges. Bayes and Bain each collected $282. Also cashing were David Peebles of Redmond, Ore. with a score of 65 aboard the horse Ding ($161); and Jesse Tennant with a score of 61 while staying atop a mount named Dong ($80).
All nine cowboys who signed up for the saddle bronc riding contest got tossed before completing their eight-second ride. That left the entire $902 purse for the stock contractor, Gold Buckle Rodeo Co. of nearby Roosevelt.