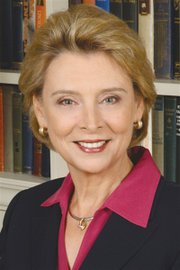 OLYMPIA - Two terms are apparently enough, as yesterday Gov. Chris Gregoire announced she will not pursue a third term as governor.
"This morning I told my staff, my cabinet and dear friends that I will not seek a third term as governor," the Democrat said in a prepared statement yesterday, Monday. "After much thought and discussion, I know it's the right decision for my family and me."
She said it was an honor to have served the state for three terms as attorney general and two terms as governor.
Gregoire still has 18 months left in her second term and acknowledged there is much work ahead with the state's economic problems.
"I know there is more work to do," she said. "My commitment to serving the people of this great state is the strongest it's ever been - and I look forward to moving our economy forward and transforming our state to meet - and exceed - the needs of a 21st Century economy."
In a written press release, President Barack Obama praised the governor's efforts on behalf of Washington state.
"I applaud Governor Gregoire for her decades of outstanding service to the people of Washington," the president noted. "From Seattle to Pullman, Gov. Gregoire has demonstrated relentless determination in her efforts to foster economic growth, strengthen the communities she serves and improve the lives of millions of Americans."
Washington state Republicans were less effusive.
"This was expected by many, given the mounting problems Washington state faces," said state Republican Chair Kirby Wilbur in a press release.
"The Democrats have controlled the Governor's mansion for 28 years and both houses of the legislature during much of that time," Wilbur said. "Rather than face the escalating issues concerning our budget and financial future, they have repeatedly kicked the can down the road."
Wilbur added, "It's time for a new direction, for new leadership in the governor's mansion. It's time to put Washington back to work and restore fiscal sanity to our state by electing a Republican governor."