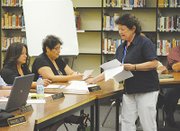 GRANDVIEW - In order to standardize the grading process, a committee made up of Grandview teachers, parents, administrators and students embarked on a six-month long evaluation of grading practices throughout the district, other districts, states and the nation.
From the committee's research emerged a five-point grading system the Grandview School Board last night voted to implement district wide next year.
Wilma Kozai, Grandview School District's Assistant Superintendent of Teaching and Learning, presented the new policy to the school board yesterday (Monday).
From the very beginning the committee has sought to answer the question, "What is the purpose of grading," Kozai revealed.
The five-point system is designed to measure a student's achievement toward meeting educational standards, Kozai said. This means eliminating attendance, attitude and behavior from influencing the student's academic grades.
Kozai also revealed this system will eliminate "the super F." Using the standard 100 percent system, where anything below a 59 percent is an F, some students fall so far below the 59 percent that it is nearly impossible to pull themselves out of it.
The newly adopted five-point system is based on the grade point average scale. Students achieving a 4.0 on an assessment are showing an advanced understanding of their course work.
Students who achieve three-point grades (3.0 and above) are meeting the district's standards proficiently, while students who achieve two-point (2.0 and above) grades are showing basic knowledge of the concepts being learned.
One-point grades (1.0 and above) are students with minimal knowledge, while a zero on a student's work will represent no evidence of learning.
The new guidelines also state that "students will have a minimum of five school days beyond the assignment or assessments posted due date...to complete it, unless there are extenuating circumstances."
Kozai revealed that teachers can set their own maximum number of days late work will be accepted within their own departments, but the number cannot vary from classroom to classroom.
The school board received the new grading policy with enthusiasm. Board Director Tim Grow remarked, "This new policy will hold teachers accountable and students accountable for what they know, versus what they don't know."
Board Director Lydia Moreno agreed and commended the committee for its work on a guide that tranforms the standard 100 percent system to the five-point system.
"As a parent, this gives us a better picture (of the grading system)," she said.
The next step for the district will be implementing the policy within the schools. Teachers, students and parents will need to learn about and understand the new grading method.
Some parents, students and teachers will have little trouble adjusting to this system, since Grandview grades K-5 have already been working with this system.