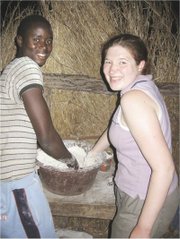 If picture slideshows are your thing, then the Sunnyside Noon Rotary Club meeting held every Monday is the place to be.
This week the Rotarians received a presentation from Julie Wedam, a Sunnysider who is currently attending WSU in Pullman majoring in cultural anthropology. Recently Wedam spend four months in the Western African country of Senegal, where she studied at Suffolk University in the capital of Senegal, Dakar.
Dressed in Boubou, which is the formal African dress, Wedam spoke to the Rotarians about some of the different cultural differences between the U.S. and Senegal.
Although both were colonies at one point, the U.S. was under British rule while Senegal was a French colony.
Language is a bit quirky. Senegal has several different languages, but Wedam said Wolof is the most widely used. French is also spoken, but most residents there use a combination of both, something like what would be called Spanglish in the U.S.
While studying at Suffolk University, Wedam lived with a host family. Unlike here in the U.S., meals were shared from the same bowl. The portion of the bowl that was in front of the person eating was theirs. Utensils were used sometimes, but also hands. When hands were used, only the right hand was used for eating. This is because the left hand is considered dirty.
Desserts or snacks aren't common in Senegal, Wedam said, noting another cultural difference.
Candles and flashlights were widely used, she said, because power outages were a common occurrence.
Bathroom facilities were similar, with most houses having western style toilets. But toilet paper is not used. Instead, a hose with a sprayer nozzle attached is used, much like a bidet. Showers are also similar to the U.S., although water heaters aren't. Cold showers are the norm, Wedam said. If one wanted a hot bath, water needed to be boiled and then cold water added to get the temperature right.
Wedam was able to visit other schools while in Senegal, thanks to a class she took called education and culture.
Neighborhoods feature houses that are very close together, leaving little room for yards. Wedam did say the country has parks people can visit. The country's population is 90 percent Muslim, but Wedam said the Senegalese are very tolerant of other religions. One day while she was in a park she noticed a man praying with Muslim beads.
"He turned to me and asked me to pray for him," she said. "I told him okay, but you pray for me, too."
Although there are many street lights in Dakar, there are no stop lights. The Senegalese get around this issue by using roundabouts.
Public transportation is called a car rapide, which is sort of like a bus. Religion is very important to the Senegalese and the vehicles are adorned in religious symbols.
One of Wedam's favorite activities was visiting other cities close to Dakar. In one city she was able to visit an old slave trading port. In another, she was able to ride a camel.
"It was pretty interesting," she said about riding the camel. "After 15 minutes, I was glad I didn't go for a longer ride, though."
She was also able to visit villages and stayed in one for four days. One of the activities she did was make tapalapa bread, the traditional bread of Western Africa. She help a village man knead the bread, which she said was quite vigorous.
Wedam said she is thinking of joining the Peace Corps when she is finished studying at WSU. When she was asked if she would like to go back to Senegal she answered in Wolof.
After translating for the Rotarians, she said, "God willing."