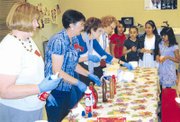 Last week students in Sandra Sanchez's fourth grade classroom at Sunnyside's Washington Elementary School were rewarded for their math efforts with an ice cream sundae party sponsored by the women of the Alpha Lambda Chapter of Delta Kappa Gamma.
The students had the highest percentage of participation in the Washington Elementary School Math Extension Program for the 2010-11 school year. All fourth grade classrooms are involved in the program, which encourages students to spend 10 extra minutes of math per night for at least 20 nights during each month.
The Math Extension Program is built on the idea that those extra minutes of math each night can and will make a significant difference in a student's understanding of math concepts.
Delta Kappa Gamma is an international society of women promoting a vision of "key women educators impacting education worldwide."
The Sunnyside Alpha Lambda Chapter includes members from Grandview and Granger. Together, they raise scholarship funds for women entering into or currently going through education programs.