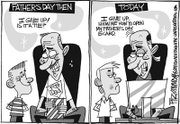 The time has come for my final opinion column for the Daily Sun News before I take my leave and head off to pursue a new dream. Somehow it seems terribly fitting that this column should come just before Father's Day because my father has always been one of the biggest supporters of my dreams...even when they were a bit outlandish.
Anyone who knows me has heard me expound on the virtues of my parents, but this time, it's all about my dad...
Papí...
Pops...
Daddy-O...
Oh, and I can't forget, Mr. Man.
I cherish the relationship I have with my father and I feel no shame in saying I am truly a "daddy's girl."
The fact is my father has always been there with sage-like advice for very nearly every single one of my youthful woes. And when problems couldn't be solved with advice alone, he was there with a hug or a joke; which ever best suited the situation.
I do have to say, my father excels best at simply being there. He is the first person I call when I - oh, I don't know, when I lock my keys in my car, or when my car battery dies, or when my car is stolen.
He is there when I am sad or angry about something, when I just have to "geek out" on some historical find I read about or a movie I just love, even if he doesn't care.
But my Papí is more than just dad to his children. He took on that paternal role for several youngsters in his life who were left without a dad.
For example, I think my father has underestimated his influence in the lives of his grandchildren and his daughter-in-law, but I know that whenever I mention him, they erupt in a chorus of "He's great!" and "He's the best!"
Because being our Papí means being a chauffeur at an instants notice, and a mechanic, and a carpenter, a business partner, a financial analyst, a coach, a teacher, a banker...
And yes, sometimes he also had to be a cop, a jailer, a judge, a jury and even a parole officer.
But more importantly, he just gave us all love, even when we were at our worst - and let me tell you, his kids and grandkids really know their mischief.
For those reasons, and for reasons too many to list here, I leave my Papí, Jesus Ruelas Fierro, with these kind words from the kids he raised -
Monica Paxton and her family: "Dad, you're awesome. Thanks for always being there when we need you - day or night. We love you."
Jesse and Terry Fierro: "After having two kids of our own, we know what you went through...and we're sorry."
Angela Fierro: "To have a father whom I can always rely on is a precious and immeasurable gift."
But perhaps it is Donna Riley's words that ring true for all the kids who have passed through your life, Papí - "The greatest gift I ever had came from God...I call him Dad."
So to all those fathers, the ones who took their responsibilities seriously, whether you needed to or not, thank you.
You are a gift.