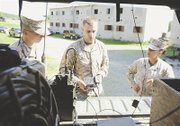 QUANTICO, VA -- Several Marine officers rush to trouble shoot a computer server that has gone offline, severing a vital data link.
Marines under heavy fire need air support before their position is overrun. As the intensity of the situation rises the Marines' training kicks in and they are able to get the server back online.
This was one of many scenarios as the Basic Communication Officers Course, class 1-11, started their final field training exercise on May 24.
This three-day exercise is a culminating event that tests the students' knowledge and practical application in radio, data and wire.
During the training students go through trouble shooting scenarios and maintenance operations that will build their confidence and trust in the equipment to successfully carry out their mission in the field.
"Our mission during this exercise is to successfully bring up fully functional communication," said 2nd Lt. Robert Wynkoop, a student enrolled in the BCOC.
The training started immediately upon arrival to the field, with the unloading and assembly of all of the equipment.
"It's definitely very detailed training," said 2nd Lt. Kirk Kinsey, a student in the BCOC. "It's a lot more than just playing with radios."
Some of these capabilities can take hours to establish. Communication is crucial to mission accomplishment, Wynkoop said.
"Allowing the commander to be able to communicate and get the message across is always essential," said Sgt. Esteban Zamora, an enlisted instructor at the Basic Communication Officers Course.
Along with testing the students' knowledge, the training also gives the officers hands-on experience with the equipment their Marines will be using.
"Once they hit the fleet most of these officers won't touch the equipment," said Cpl. Jamike Felix, an enlisted instructor with the Basic Instructors Communication Course. "It's important they know how to use the equipment."
The students enrolled in the officer's course are instructed by the Enlisted Instructor Platoon for the BCOC.
"We teach these officers from personal experience," said Gunnery Sgt. Jamil Amous, the data chief for the enlisted staff. "Most of us have multiple deployments and have been in high pressure situations. We try and bring that to this high caliber training."
In addition to the hands-on experience with the equipment, the officers get a chance to work directly with the enlisted Marines who are subject matter experts in communications.
"For most of the officers this is the first time working with the enlisted side," said Felix. "This training is going to help them build a relationship with the enlisted side, so when they do take charge of their Marines they have a good understanding of how the enlisted side works."
The most important lesson the officers can learn during this exercise is the understanding of the effort and manpower that goes into setting up communications, so they know what to expect once they're out there, said Zamora.
- Sunnyside native Lance Corporal Emmanuel Ramos is a combat correspondent for the U.S. Marines.