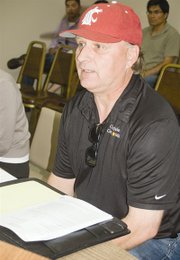 GRANDVIEW - The city of Grandview took a big step forward with plans for its new community center by awarding a construction bid last night, Tuesday.
Council awarded the contract to the low bidder, Blew's Construction of Spokane for a total of $1.07 million.
That includes some additional elements added to the community center, which will also house programs for Grandview's senior citizens.
Changes to the community center, which will be attached to the George Young Building, include expanding the multi-purpose room by 12 feet so it can be used as a full length gym and adding acoustical tiles to help with sound.
The additions will add about $50,000 to the cost of the project. The extra cost will be paid for with a three-year interfund loan from the city's general fund.
Council could have postponed the changes until the community center was built, but at a greater cost.
Council unanimously felt the upgrades were worthwhile, especially in addressing potential sound issues that might make it difficult for the hearing impaired to enjoy the building.
"Fifty thousand dollars is a small price to pay to keep everybody happy," said Councilwoman Diana Jennings.
Progress towards construction of the community center is just the latest in a spate of recent grant-funded improvements in Grandview, which have included a new joint library with YVCC and upgrades to downtown streets and sidewalks.
"Looks like we'll be having another groundbreaking ceremony soon," said Parks and Recreation Director Mike Carpenter.