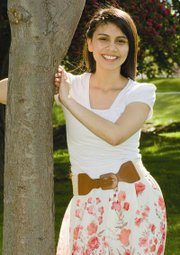 Wanting to step out of her comfort zone and prove to others that she doesn't fit a specific stereotype, Sunnyside High School student Jessica Bonilla is vying for the 2011-12 Miss Sunnyside title.
She said some in the community believe she is a quiet individual, befitting of a stereotype associated with her faith. She wants to prove she can be outgoing and fun.
"I also want to be a good role model for my younger sister, Debbi," said Bonilla, stating her sister is 10-years-old.
She said she wants to prove to the younger Bonilla that anything one sets his or her mind to can be achieved.
"I want her to reach for her goals," said Bonilla.
She said another element of inspiration she has felt comes from her older siblings, Joe and Crystal. Both are serving in the U.S. Marine Corps overseas.
Their service to their country makes Bonilla want to serve her community, and she feels serving on the Miss Sunnyside court will enable her opportunities to do so.
"It's still a great experience just being a candidate," said Bonilla, stating she is stretching herself and learning to become gregarious through her experiences already.
She said the one other member of her family, her father, Jose, is an encouraging figure in her life and supports her in her pursuit of achieving her goals.
If selected to serve as Miss Sunnyside, Bonilla aims to work with Sunnyside Transformation Lower Valley.
She said the group has impressed her with its Loving Sunnyside Initiative and she wants to help in the organization's efforts to bring the community together.
She admits she has yet to speak with members of the organization, but Bonilla aims to "plug in" wherever Sunnyside Transformation Yakima Valley needs help.
For the Miss Sunnyside Pageant, Bonilla plans to perform an interpretive dance and sign language routine.
She said she has learned the style of performance as a member of the Puerta de Cielo praise and youth groups at her church.
Bonilla is a member of Key Club, Zamar Ministries and Science Club. She will also be serving as the junior class secretary during the 2011-12 school year.
Following high school, Bonilla plans to pursue a degree in sociology at Georgetown University or attend the University of Washington for a degree in pediatric nursing.
"I believe a degree in sociology opens the doors to many career paths," said Bonilla.
Her desire is to work in a career that involves helping others.
That is why Bonilla's second option of pediatric nursing is important to her.
She has helped her mother, Maria, operate a daycare and enjoys children. Pediatric nursing would combine the best of both worlds for her.
"It's rewarding and gives me a sense of connection," said Bonilla of working with children.
Bonilla's Miss Sunnyside Pageant sponsors are Pupuseria Restaurant and Hi-Way Fruit.