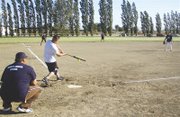 This past Tuesday wasn't a good day for Columbia Crest, one of the Lower Valley Men's Softball League teams.
The crush came early for Columbia Crest when Team Impact beat them twice this past Tuesday night; 20-4 and 19-0.
"Columbia Crest is a good team, but they're young and they had a few guys missing," Team Impact Coach Gilbert Briones said. "They gave us a good game in the first one."
Team Impact slammed five home runs in the opening tilt. David Palomarez went 4-for-4 with two home runs. Lucas Ramos was 4-for-4 with two homers and a triple, and Buddah Palomarez was 2-for-3 with one homer.
"They were hitting the ball in the right spots," said Columbia Crest Coach Eru Clara. "They had a lot of home runs and they have a lot of good players."
In game two of the doubleheader Team Impact was led by Anthony Palomarez, who went 3-for-4 with two doubles. Tyler Esqueda was 3-for-3 (all singles) and Joe Alvardo went 3-for-4 (all singles).
Team Impact was scheduled to play a doubleheader with Bob's Drive In/Crush last night but the game was postponed due to a lack of players.
Columbia Crest played Pure Mayhem/Sports Center last night and split the doubleheader.
Columbia Crest lost the first game 14-7, but came back to win the nightcap 17-16.
"We came out swinging in the second game," Clara said.
Aaron Vela led Columbia Crest's effort with two home runs. Clara was credited with an inside the park homer.
Pure Mayhem/Sports Center had an opportunity to win the second game but left two men stranded as the game ended.
Pure Mayhem/Sports Center played a doubleheader with Bob's Drive-In/Crush this past Tuesday.
Bob's Drive-In/Crush won the first game 9-8. Coach Martin Sanchez said the highlight of that game was Jason Garza, who banged out three homers. Pure Mayhem/Sports Center came back and won the nightcap 11-6. Garza said his team had poor hitting in the effort.
The fifth team in the league, Wild Boyz/Kabronz, didn't play this week.