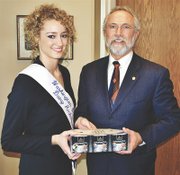 It's been quite a run for Kristyn Mensonides, the current Washington State Dairy Ambassador.
After serving as Yakima Valley Dairy Ambassador, Mensonides was selected as the state's ambassador, the first one from the Yakima Valley in 10 years. The last one was Corinne Koopmans in 2000-01. Mensonides' sister, Hedy Mensonides, was Koopmans' alternate while she served as Yakima Valley Dairy Ambassador.
Mensonides recently reflected on her past year as the Washington State Dairy Ambassador with the Daily Sun News.
"It was fun, I learned a lot," she said. "Many opportunities opened up for me."
One of those was an internship she took with Terry Wilson, director of the Washington Management Service Administration.
During her year as state dairy ambassador she gave more than 400 presentations to schools across the state. During every presentation she would show the classes how butter was made. Mensonides said she was also the first dairy ambassador to ever be invited to the Seattle School District. During a three-day swing through Seattle's schools Mensonides spoke with more than 1,400 students.
"I talked about milk's journey from cow to you," she said.
She made quite an impression on the students. The Seattle School District has already requested the next state ambassador to return.
Along with making butter, Mensonides also introduced the students to a Holstein calf.
Another first for the Washington State Dairy Ambassador program was Mensonides being invited to the Idaho Dairy Convention.
"That was a lot of fun," she said. "I got to meet the Governor (C.L. "Butch" Otter)."
The highlight of her year, however, was spending Dairy Day at the state capitol in Olympia.
"I was able to speak on the Senate floor," she said. "I spoke about the products I was promoting."
She was introduced by Lt. Governor Brad Owen and politely reminded the Senate that the dairy industry is the second largest agricultural commodity in Washington, providing thousands of jobs on an annual basis.
Washington state is also in the top 10 for milk production for cows. Her speech to the Senate was basically how they can 'get back to the basics' regarding the dairy industry.
"We've lost that personal connection," she said. "Not a lot of kids have ever actually petted a cow before."
That's why the young Holstein calf Mensonides was able to introduce to several classes made such an impact.
Spending two years as a dairy ambassador has given Mensonides more confidence.
"I used to be shy," she said. "I would never volunteer. Now, I can talk to anyone, young or old."
That might be a result of having met and reached out to more than 3 million people during her tenure. As state ambassador, Mensonides also did 10 radio interviews and made two television appearances.
Her reign will end on Friday, June 24. She plans on attending Iowa's Dordt College in the fall, where she will study marketing and graphic design.
More like this story