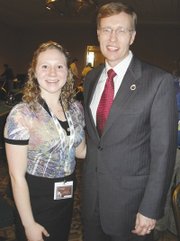 Kristen Wedam, the 2010-11 Yakima Valley Dairy Ambassador, has spent the past year educating just about everyone about the benefits of dairy products. And she doesn't want to quit.
Although her term is up and a new young lady is now touting those benefits, Wedam will compete for Washington State Dairy Ambassador title later this week. If selected, Wedam will be the second consecutive Yakima Valley Dairy Ambassador to hold this position.
She said her year as the Yakima Valley ambassador was incredible.
"There are a lot of opportunities to get to network with the public and industry (dairy) people, as well as agriculture people," she said. "I learned a lot of about the products and the industry."
Wedam, whose parents are veterinarians, has always been involved with the dairy industry growing up in Sunnyside, but she said there is always more to learn.
"I was thoroughly impressed," she said.
What impressed her?
The fact that dairy products are so balanced in their nutrition benefits, she said. Wedam said dairy products can be used in a multiple of ways. For instance, she said certain types of cheese can be used as a pasta substitute.
Her year as serving as Yakima Valley Dairy Ambassador is chock full of memories, but Wedam said one of the fondest was attending the parades.
"I like having an excuse to wave at people and smile," she said. "It's exciting."
She also enjoyed attending the annual dairy convention held in Washington.
"I learned a lot more about how much dairy farmers care about reducing their carbon footprint and continuing to produce the best product possible, all while caring about our planet," Wedam said.
Visiting classrooms to teach children about the benefits of dairy products was also a highlight for Wedam.
"I especially enjoyed the younger kids," she said. "They get so excited. That was really exciting for me because they are so excited about learning."
She hopes to continue that education by being selected as the Washington State Dairy Ambassador on Friday, June 24.
"It will be an incredible opportunity to represent the product, the people and the industry I love," she added.
As the state ambassador Wedam would continue to visit schools and civic groups, but would add talking to state legislators, as well as doing radio and television interviews as part of her outreach events. She will certainly be very busy. If selected, the current Washington State University student will take a year off from school to do her duties.
But that won't be a problem for Wedam.
"I like being busy, especially when it's something you care about," she said.
The state dairy ambassador competition will be held this week in Lynnwood beginning on Wednesday, June 22, and will culminate on Friday, June 24.
Win or lose, Wedam will always be promoting the health benefits of dairy products. She quoted the Foods Standards Agency as she finished this interview.
"Educate yourself about the 'most nutritionally complete food' there is."