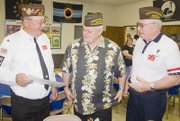 His floral shirt setting a relaxed tone, National VFW Commander Rich Eubank paid a visit to the VFW post in Sunnyside this morning, Tuesday.
The stop here this morning is part of Eubank's whirlwind tour of VFW chapters across the country.
"I've been home for a day-and-a-half since January," the Eugene, Ore. resident said. "Every state I'm in is home."
He says the goal is to increase VFW membership to help the organization maintain its lobbying clout on behalf of veterans. Eubank said the VFW is losing members nationwide.
"The younger ones need to join," he said of veterans who have served overseas in wartime. "They don't have to be full active members, but I need them to be members. Every new member we have is another round for us in lobbying for veterans."
That clout is needed now more than ever because of federal cuts to VFW programs.
"They (Congress) passed a budget, but it's still $2 billion short of what we needed," Eubank said. "We have soldiers coming home from war with traumatic brain injuries and loss of limbs. We have to be prepared to take care of these people."
Eubank said another priority needs to be family members of wounded vets who take care of their loved ones. "A family member who takes full time care of a soldier wounded in battle should be paid for it," he said.
He says another priority for federal funding related to returning veterans is to address mental health issues.
"We need to put the stigma away," he says of the hesitation many veterans have of seeking counseling. "We have high rates of suicide and divorce and we need to make sure counseling is available."
Eubank, who will attend the Washington state VFW convention in Yakima tomorrow, said this is his first trip to the Evergreen State as the VFW commander in chief.
"There are great veterans here," he said. "They work hard and we can always count on Washington state veterans to back us up."