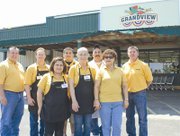 GRANDVIEW - Some may refer to it as the Red Apple and others refer to it as Grandview Marketplace.
But, the longtime grocery store located on Euclid Road is now El Mercado de Grandview.
The new owners are David Weber and Phil Blackburn.
Weber said Blackburn has for several years owned REM Grocery LLC, which has a store in Cashmere. Its Quincy location recently was destroyed in a fire, but will be rebuilt.
The Grandview store, said Weber, is the only one which will have the El Mercado moniker. He said that is because he has co-ownership of the local establishment and the aim is to provide fresh, local products at competitive prices for the community of Grandview.
"We will focus on providing local shoppers with more Hispanic products," Weber added.
He said the demographics of Grandview calls for a grocer that serves the community as a whole. The community, he believes, has been underserved by other grocery chains in the city.
Prices, too, are a priority for El Mercado de Grandview.
Weber said milk prices were 99 cents higher than competing stores. "We have already dropped the price for our customers," he said.
"We will be fresh!" said Weber, stating he and Blackburn are seeking to sell produce and meats that are supplied locally.
"Meat and produce will be a priority," said Weber.
United Grocers is the primary supplier of products sold at the store, but a secondary supplier will provide Hispanic products.
When asked about the staff at the store, Weber said many of the familiar faces remain. There are a few new faces, however.
"We want to grow," said Weber.
He said another familiar aspect of the business will be continued tent sales.
"I was known for my tent sale success in a previous grocery chain," Weber said, stating he was once a regional manager for a larger grocery chain that served the Lower Yakima Valley and the Tri-Cities area.
"This is a competitive market," he said, adding the store seeks to serve the customers' needs as well as it can.
Popular items will be located in easy-to-find locations throughout the store.
Weber said Jarritos soda, for example, will be located with the Coca-Cola and Pepsi products.
The changes are already taking place and cereal is in a more well-lit, easy to find aisle. Produce is displayed in an eye-catching manner in what one might describe as an old-fashioned crate display.
The walls, too, are receiving a facelift, said Weber. The old white walls with a red stripe are getting a treatment of red, yellow or one of two shades of eye-popping green.
"We want the colors to be bright and vivid...appealing to the customers," said Weber, stating the color scheme has been attractive in the other stores owned by Blackburn for whom Weber serves as an operations manager at the other locations.
He continued, stating the refrigerated cases and the outside of the store will receive new signage.
A grand opening is planned for the end of this summer, he said.
"We have a great passion for this business...this market is exciting," said Weber.
Blackburn entered the conversation and said, "The store will sell fresher products at more consumer-friendly prices."