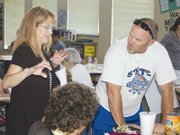 That student acting out in the classroom, or who doesn't seem to care about school might be suffering from residual impacts caused by adverse childhood experiences, or ACEs.
That's according to two presenters yesterday, Tuesday, during the Summer Institute for educators underway this week at Sierra Vista Middle School.
The presenters were Amanda Rodriguez and Cathy Kelley, both of whom work for ESD 105 in advocating for at-risk students.
They listed ACE as physical abuse, sexual abuse, emotional abuse, neglect, a mentally ill or suicidal person at home, drug addicted or alcoholic family member, witnessing domestic violence against the mother, loss of a parent or incarceration of a family member.
They presented survey results from UC Berkeley that interviewed 1,000 people.
The survey showed the more ACEs a student experienced at home the more likely they were to be aggressive, have attention deficit disorders, delays in speech and language development.
They said the impacts mean students with more ACEs are more likely to drop out of school. Further, long term impacts can include a higher propensity for heart disease and suicide.
"Abuse triggers processes that shape the brain, such as chemicals, hormones and electrical activity," Kelley said of the connection between traumatic childhood experiences and difficulties in school and in adult life.
It's important to know all of this, they said, because of the high number of students in the Yakima Valley who experience several ACEs during their formative years.
Despite all of these hurdles, Kelley says there are ways for teachers to bring out positives in students affected by adverse experiences.
She noted the "glass half-full or half-empty" analogy. For example, she said an irritable student could be perceived as passionate, or impulsive could be seen as decisive.
What it comes down to, says Kelley, is "trauma informed teaching."
That means perhaps a teacher could take down a few posters and leave some white spaces on classroom walls to reduce distractions for students with attention deficit disorders.
Kelley said teachers can also give students choices for the consequences of their misbehaviors.
She says even simple things like ringing a bell instead of blowing a shrill whistle can help children cope in the classroom.
Students who have experienced several ACEs in their childhood need to feel needed, Kelley adds. That could mean, for example, creating tasks for them to help in the classroom.
"Trauma informed teaching" works, as Rodriguez noted a seventh grader she worked with this past year came to her with several problems.
Rodriguez said teachers told her the student was involved with gangs, graffiti and rebelled at taking medicine for ADHD.
While the student had issues, Rodriguez said he became "one of my best students, he passed all of his classes."
Today that student is also no longer involved with gangs. Rodriguez said one thing that helped is looking beyond the labels that were placed on him.
"Everyone has labels," Rodriguez said. "Kids come with labels, but you can't tell what's on the inside by looking at the outside."