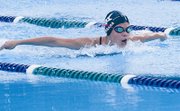 The Grandview summer swim team was unable to navigate through Sunnyside's Shark-infested waters last night.
The host Sharks, winners of 56 of the 73 events staged Tuesday evening, came out on top by a final score of 603-259.
The victory boosted Sunnyside's Mid-Valley Summer Swim League record to 2-0 on the young season. The Neptunes fell to 1-2 in league play.
Besides the 3-1 margin Sunnyside enjoyed in claiming first-place finishes, the Sharks picked up 136 team points via a total of 34 runner-up placings, compared to the 18 second-place showings notched by Grandview, worth 72 team points.
For fans who truly call themselves swimming afficiandos, the one shining highlight that came from last night's meet was the performance of Grandview's Fabian Ruiz. Competing in the boys 16&U, 50-meter freestyle sprint, Ruiz churned the length of the Olympic-sized pool in a spectacular time of 27.33 seconds. The Neptune's clocking was just a shade under a quarter of a second off the Sunnyside pool record of 27.09 seconds in that age bracket, set by James Wildman in the Mid-Valley Summer Swim League championships on Aug. 1 of last year.
Ruiz nearly made it a clean sweep for Grandview in the boys 16&U events, winning four of the five individual events and helping the Neptunes to top finishes in both relay events for that age division. The one blemish for Ruiz, however, came in the 50-meter breaststroke, where Sunnyside's Giovanni Rodriguez won going away, recording a time of 38.40 seconds, 5.2 seconds quicker than the second-place finishing Ruiz.
As dominating as the Sharks were in claiming the team victory against the visiting Neptunes last night, which of course brought too many personal highlights to mention all of them, one of the more noteworthy individual performances was turned in by Ashlee Maldonado.
The "Butter Cutter," a nickname Maldonado was tabbed with last week for the way she sliced through the Othello competition like a sharp knife through butter that's been left out on a kitchen counter for several days, kept her unbeaten record on the season intact. A girls 10&U competitor, Maldonado walked off with top honors in all five individual events last night.
Maldonado was untouchable in the 50-butterfly, clocking a time of 42.35 seconds, more than 12 seconds quicker than the next closest finisher. She also dominated last night's 50-meter freestyle race for her age division, winning by nearly six seconds over the runner-up. In the 200-meter individual medley, Maldonado again proved to be the class of the field, winning with a clocking of 4:11.29. The runner-up was a distant second in a time of 4:50.97.
There were two races, however, in which Maldonado received a stiff challenge, and both came from teammates. In the 50-backstroke, Sunnyside's Jessica Scheenstra hit the finishing wall less than four-tenths of a second behind Maldonado. And in the 50-breaststroke, Sharks teammate Bailey Hazzard was a mere six one-hundredths of a second back of the Butter Cutter.
Two other big guns for Sunnyside last night included Alex Perez, who won all five of the boys 14&U individual events; and Logan Rodriguez, who swept to victory in all four of the boys 8&U races.
Two Sunnyside swimmers captured wins in four of the five events in their respective age divisions. They were Adrian Heffron (boys 12&U) and Emily Hutchins (girls 18&U).
Three-time winners in the individual races against Grandview included Parker Van de Graaf (boys 10&U), Jolissa Mendoza (girls 12&U), Payton Sample (girls 14&U) and Madi Marquez (girls 16&U).
The Sharks are scheduled to trek to Selah to take on the perennially tough Dolphins this coming Thursday, while Grandview's swim team will enjoy a bye in the league schedule the same night.
Grandview 259-Sunnyside 603
200-METER MEDLEY RELAY
Girls 10&U
1st-Sunnyside (B. Hazzard, J. Scheenstra, A. Maldonado, M. Clough) 3:25.83
Boys 10&U
1st-Sunnyside (C. Schilperoort, J. Heffron, P. Van de Graaf, E. Weaver) 4:02.10
Girls 12&U
1st-Sunnyside (H. Perez, S. Salas, J. Mendoza, E. Banks) 3:04.16
Boys 12&U
1st-Grandview (A. Stevens, J. Valdez, M. Prieto, T. Valenzuela) 3:10.49
Girls 14&U
1st-Sunnyside (A. Davis, K. Bestebreur, P. Sample, S. Hazzard) 2:46.54
Boys 14&U
1st-Sunnyside (C. Martin, M. Marquez, A. Perez, F. Rodriguez) 2:46.40
Girls 18&U
1st-Sunnyside (M. Marquez, E. Hutchins, A. Newhouse, C. Rollinger) 2:46.77
Boys 18&U
1st-Grandview (D. Garza, M. Binfet, J. Churchill, F. Ruiz) 2:40.74
50-METER BUTTERFLY
Girls 8&U
1st-Elena Peacock (G) 1:25.53, 2nd-Arianna Sanchez (S) 1:42.55
Boys 8&U
1st-Logan Rodriguez (S) 1:18.70
Girls 10&U
1st-Ashlee Maldonado (S) 42.35, 2nd-Jessica Scheenstra (S) 54.68, 3rd-Cassandra Ruiz (G) 55.47, 4th-Bailey Hazzard (S) 1:04.67
Boys 10&U
1st-Parker Van de Graaf (S) 55.86, 2nd-Clay Schilperoort (S) 1:02.98, 3rd-Ethan Weaver (S) 1:10.40, 4th-Angel Morales (G) 1:11.83
Girls 12&U
1st-Emilee Maldonado (S) 44.67, 2nd-(tie) Jolissa Mendoza (S) & Hunter Perez (S) 48.37, 4th-Areesa Trevino (G) 48.52
Boys 12&U
1st-Adrian Heffron (S) 49.01, 2nd-Maurice Prieto (G) 49.03, 3rd-Carlo Rodriguez (S) 51.53, 4th-Mak Shergill (S) 54.44
Girls 14&U
1st-Payton Sample (S) 36.81, 2nd-Heidi Vergara (S) 39.67, 3rd-Aiden Hudgen (S) 43.31, 4th-Kalie Bestebreur (S) 44.85
Boys 14&U
1st-Alex Perez (S) 33.79, 2nd-Micah Binfet (G) 37.08, 3rd-Fox Rodriguez (S) 43.63, 4th-Christopher Martin (S) 44.47
Girls 16&U
1st-Tara Van Corbach (S) 37.09, 2nd-Alexandra Newhouse (S) 37.15, 3rd-Samanta Castaneda (G) 37.81, 4th-Madi Marquez (S) 40.49
Boys 16&U
1st-Fabian Ruiz (G) 32.89, 2nd-Giovanni Rodriguez (S) 33.22, 3rd-John Newhouse (S) 47.21, 4th-Drew Scheenstra (S) 58.23
Girls 18&U
1st-Emily Hutchins (S) 45.89, 2nd-Sarah Roberts (G) 53.41, 3rd-Jenalee Mariotti (G) 56.18
Boys 18&U
1st-Dominic Garza (G) 35.19
50-METER BREASTSTROKE
Girls 8&U
1st-Abigail Albrecht (S) 1:13.78, 2nd-Aline Anderson (S) 1:19.13, 3rd-Sydney Banks (S) 1:22.77, 4th-Arianna Sanchez (S) 1:24.44
Boys 8&U
1st-Logan Rodriguez (S) 1:30.81
Girls 10&U
1st-Ashlee Maldonado (S) 58.33, 2nd-Bailey Hazzard (S) 58.39, 3rd-Cassandra Ruiz (G) 58.60, 4th-Hannah Binfet (G) 59.45
Boys 10&U
1st-Johnny Heffron (S) 50.51, 2nd-Parker Van de Graaf (S) 59.74, 3rd-Nicolas Cortez (G) 59.93, 4th-Clay Schilperoort (S) 1:09.63
Girls 12&U
1st-Areesa Trevino (G) 50.32, 2nd-Sadie Salas (S) 51.67, 3rd-Madison Diener (G) 56.05, 4th-Emily Banks (S) 56.08
Boys 12&U
1st-Tavian Valenzuela (G) 49.89, 2nd-Adrian Heffron (S) 49.94, 3rd-Mak Shergill (S) 54.86, 4th-Luis Valdez (G) 58.66
Girls 14&U
1st-Heidi Vergara (S) 45.09, 2nd-Payton Sample (S) 46.23, 3rd-Kalie Bestebreur (S) 46.62, 4th-Katelyn Hazzard (S) 46.69
Boys 14&U
1st-Alex Perez (S) 39.97, 2nd-(tie) Micah Binfet (G) & Orian Blanshan (G) 40.30, 4th-Trajen Frank (S) 46.55
Girls 16&U
1st-Alexandra Newhouse (S) 44.83, 2nd-Tawny Francis (G) 46.14, 3rd-Tara Van Corbach (S) 46.22, 4th-Madi Marquez (S) 47.34
Boys 16&U
1st-Giovanni Rodriguez (S) 38.40, 2nd-Fabian Ruiz (G) 43.60, 3rd-Damien Garza (G) 56.16, 4th-Drew Scheenstra (S) 1:00.99
Girls 18&U
1st-Sarah Roberts (G) 47.88, 2nd-Emily Hutchins (S) 54.12, 3rd-Jenalee Mariotti (G) 56.47
Boys 18&U
1st-Dominic Garza (G) 44.12
50-METER BACKSTROKE
Girls 8&U
1st-Abigail Albrecht (S) 1:43.54, 2nd-Addy Barcenas (S) 1:43.64, 3rd-Arianna Sanchez (S) 1:55.35, 4th-Sydney Banks (S) 2:02.85
Boys 8&U
1st-Logan Rodriguez (S) 1:16.88, 2nd-Cesar Vargas (S) 1:17.07, 3rd-Reid Weaver (S) 1:35.19, 4th-Benjamin Anderson (S) 1:44.58
Girls 10&U
1st-Ashlee Maldonado (S) 51.94, 2nd-Jessica Scheenstra (S) 52.30, 3rd-Kylah Bunch (S) 53.28, 4th-Emily Broersma (S) 1:00.27
Boys 10&U
1st-Clay Schilperoort (S) 58.64, 2nd-Parker Van de Graaf (S) 1:01.15, 3rd-Johnny Heffron (S) 1:02.54, 4th-Izaiah Gonzalez (S) 1:10.98
Girls 12&U
1st-Jolissa Mendoza (S) 45.59, 2nd-Hunter Perez (S) 50.14, 3rd-Areesa Trevino (G) 51.88, 4th-Sadie Salas (S) 52.20
Boys 12&U
1st-Adrian Heffron (S) 47.85, 2nd-Maurice Prieto (G) 54.77, 3rd-Tavian Valenzuela (G) 57.25, 4th-Luis Valdez (G) 57.94
Girls 14&U
1st-Tiana Perez (S) 42.32, 2nd-Payton Sample (S) 44.13, 3rd-Kalie Bestebreur (S) 45.51, 4th-Aiden Hudgen (S) 45.59
Boys 14&U
1st-Alex Perez (S) 39.63, 2nd-Christopher Martin (S) 41.99, 3rd-Micah Binfet (G) 46.33, 4th-Mathew Marquez (S) 49.40
Girls 16&U
1st-Madi Marquez (S) 43.67, 2nd-Alexandra Newhouse (S) 44.49, 3rd-Charley Beth Rollinger (S) 47.04, 4th-Samanta Castaneda (G) 47.98
Boys 16&U
1st-Fabian Ruiz (G) 40.79, 2nd-Giovanni Rodriguez (S) 41.73, 3rd-Drew Scheenstra (S) 54.38, 4th-Damien Garza (G) 56.35
Girls 18&U
1st-Emily Hutchins (S) 47.92, 2nd-Jenalee Mariotti (G) 52.83, 3rd-Sarah Roberts (G) 56.86
Boys 18&U
1st-Dominic Garza (G) 41.81
50-METER FREESTYLE
Girls 8&U
1st-Arianna Sanchez (S) 1:00.91, 2nd-Abigail Albrecht (S) 1:06.28, 3rd-Aline Anderson (S) 1:18.86, 4th-Sydney Banks (S) 1:22.19
Boys 8&U
1st-Logan Rodriguez (S) 1:05.02, 2nd-Daniel McGhan (G) 1:24.27, 3rd-Cesar Vargas (S) 1:24.89, 4th-Benjamin Anderson (S) 1:33.83
Girls 10&U
1st-Ashlee Maldonado (S) 39.41, 2nd-Jessica Scheenstra (S) 45.30, 3rd-Klah Bunch (S) 46.47, 4th-Emily Broersma (S) 47.81
Boys 10&U
1st-Parker Van de Graaf (S) 45.60, 2nd-Johnny Heffron (S) 46.77, 3rd-Clay Schilperoort (S) 48.17, 4th-Nathaniel Gutierrez (G) 51.97
Girls 12&U
1st-Jolissa Mendoza (S) 37.69, 2nd-Areesa Trevino (G) 37.89, 3rd-Hunter Perez (S) 41.43, 4th-Esmi Cerda (S) 41.56
Boys 12&U
1st-Adrian Heffron (S) 34.32, 2nd-Maurice Prieto (G) 37.00, 3rd-Tavian Valenzuela (G) 37.20, 4th-Luis Valdez (G) 41.15
Girls 14&U
1st-Payton Sample (S) 33.29, 2nd-Hailey Walker (G) 34.56, 3rd-Kalie Bestebreur (S) 36.33, 4th-Ashley Davis (S) 37.77
Boys 14&U
1st-Alex Perez (S) 29.67, 2nd-Christopher Martin (S) 32.93, 3rd-Micah Binfet (G) 35.49, 4th-Brenden Lynch-McGhan (G) 37.85
Girls 16&U
1st-Madi Marquez (S) 33.30, 2nd-Alexandra Newhouse (S) 33.98, 3rd-Tara Van Corbach (S) 34.19, 4th-Samanta Castaneda (G) 35.15
Boys 16&U
1st-Fabian Ruiz (G) 27.33, 2nd-Giovanni Rodriguez (S) 32.67, 3rd-John Newhouse (S) 36.83, 4th-Drew Scheenstra (S) 40.71
Girls 18&U
1st-Emily Hutchins (S) 38.61, 2nd-Jenalee Mariotti (G) 42.27, 3rd-Sarah Roberts (G) 42.46
Boys 18&U
1st-Dominic Garza (G) 31.54, 2nd-Edgar Vargas (S) 31.59
200-METER FREESTYLE RELAY
Girls 10&U
1st-Sunnyside (A. Rodriguez, E. Broersma, K. Bunch, A. Maldonado) 3:18.55
Boys 10&U
1st-Sunnyside (P. Van de Graaf, C. Schilperoort, C. Hill, J. Heffron) 3:47.17
Girls 12&U
1st-Sunnyside (E. Banks, H. Perez, E. Maldonado, J. Mendoza) 2:50.02
Boys 12&U
1st-Grandview (T. Valenzuela, M. Prieto, A. Stevens, L. Valdez) 2:43.87
Girls 14&U
1st-Sunnyside (A. Davis, K. Bestebreur, P. Sample, S. Hazzard) 2:28.78
Boys 14&U
1st-Sunnyside (C. Martin, M. Marquez, A. Perez, F. Rodriguez) 2:26.84
Girls 18&U
1st-Grandview (J. Morales, A. Sehnert, S. Castaneda, M. Trevino) 2:28.56
Boys 18&U
1st-Grandview (D. Garza, D. Garza, F. Ruiz, M. Binfet) 2:29.67
200-METER INDIVIDUAL MEDLEY
Girls 10&U
1st-Ashlee Maldonado (S) 4:11.29, 2nd-Allison Davis (S) 4:50.97, 3rd-Cassandra Ruiz (G) 5:06.39, 4th-Macy Clough (S) 5:17.30
Boys 10&U
1st-Parker Van de Graaf (S) 4:24.82, 2nd-Johnny Heffron (S) 4:27.31, 3rd-Nicolas Cortez (G) 5:59.56, 4th-Jaxson Lakins (G) 6:45.83
Girls 12&U
1st-Jolissa Mendoza (S) 3:42.86, 2nd-Areesa Trevino (G) 3:58.67, 3rd-Taylor Ebbelaar (G) 4:07.08, 4th-Emilee Maldonado (S) 4:09.80
Boys 12&U
1st-Adrian Heffron (S) 4:00.39, 2nd-Tavian Valenzuela (G) 4:06.91, 3rd-Luis Valdez (G) 4:13.24, 4th-Maurice Prieto (G) 4:17.01
Girls 14&U
1st-Payton Sample (S 3:22.65, 2nd-Kalie Bestebreur (S) 3:42.67, 3rd-Courtnie Cunningham (S) 3:543.82, 4th-Mickayla Wert Long (G) 4:22.96
Boys 14&U
1st-Alex Perez (S) 3:07.45, 2nd-Micah Binfet (G) 3:32.56, 3rd-Christopher Martin (S) 3:56.00, 4th-Mathew Marquez (S) 3:59.27
Girls 16&U
1st-Madi Marquez (S) 3:27.93, 2nd-Samanta Castaneda (G) 3:33.53, 3rd-Alexandra Newhouse (S) 3:34.72, 4th-Jessica Morales (G) 3:36.17
Boys 16&U
1st-Fabian Ruiz (G) 3:07.69, 2nd-Giovanni Rodriguez (S) 3:11.94
Girls 18&U
1st-Emily Hutchins (S) 3:42.87, 2nd-Sarah Roberts (G) 4:16.31
3 Bob Story 6/22/2011 3:16 PM