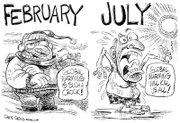 I am so pleased summer is finally here! This means I won't be freezing 24-7, but instead can get nice and toasty by taking a break outside.
I know some believe all women are cold all the time, but that's just not true. I know a lot of women who are quite comfortable when the thermometer reads 68 degrees.
I am not one of them, however.
Unless the temperature is hovering somewhere around 75 degrees or higher, I am wrapped up like an Eskimo.
I layer my attire and wear a coat when others believe I am just plain crazy.
I can't help it. Being cold is not a state of mind for me.
So, seeing the mercury rise this past week has made me giddy. I can wear attire more appropriate for what is now officially summer.
It is strange how just a slight change in the temperatures can make a difference between long pants with tights and crop pants with sandals.
Call me a reptile, if you wish. I like it to be nice and toasty.
I can type better because my fingers are no longer stiff and feeling like popsicles. People can better understand me when I talk because my teeth aren't chattering.
Again...sandals!
I love wearing sandals or flip-flops. I love painting my toenails and feeling the flow of warm air on my feet.
I like walking around in the warmth of the sunshine, feeling nice and cozy. Sometimes I will slip off the sandals to feel the grass between my toes.
My disposition is also brighter with the sunshine. I enjoy the sunshine because it causes the trees to green up and the flowers to bloom.
Everything is more cheerful and fresh to me with summer.
All I can say now is...bring on the lemonade.
More like this story