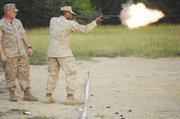 The two Marines sprint, ammo cans in hand, to their fighting position. As they get to the position, they find their weapon disassembled.
Immediately their training kicks in and they quickly begin to assemble their weapon. The Marines load their rounds and begin to engage targets at different distances.
More than 20 Marines from Quantico participated in the Marine battle skills training exercise earlier this month.
"We do this training because it keeps Marine minds fresh," said Gunnery Sgt. Kristopher W. Korreck, the noncommissioned officer in charge of the training exercise. "You wouldn't want to deploy with a Marine who doesn't have the proper training."
The exercise is an annual requirement, as well as a pre-deployment training exercise that simulates combat scenarios. It allows Marines to qualify with numerous weapon systems, and even get to throw live grenades.
The vehicle basic combat training, which is a training exercise on how to survive in an overturned vehicle, was also included in the battle skills training earlier this month.
"I've never been rolled over in a Humvee before," said Sgt. Paul H. Jones, a systems analyst with Marine Corps Network Operations Security Center. "I know that if I'm ever put in that situation, I can always fall back to my training here today."
In addition to training with the weapons and combat scenario, Marines are also given training on leadership and communication.
The Marines are broken into squads and given leadership billets.
"I came from a command with few Marines under me," Jones said. "I've never been in a leadership position, leading junior Marines felt good."
Squad competitions were held to test the squad leaders and the communication of the squad.
One competition included three targets and required the squad to shoot them down. The winner was rewarded with not having to stand fire watch.
"It puts us in a stressful environment," said Lance Cpl. Candise Barber, an ordnance technician with Ordnance Maintenance Section. "That pressure is going to help us when we're in that environment."
Marines are also refreshed on the importance of gear accountability.
"Keeping control of your serialized gear is something that is stressed heavily here," Jones said. "We wouldn't want our enemies to end up with our gear."
After being put through all of these stressful scenarios together, the Marines feel a stronger bond to each other.
"I'm new to Quantico," Jones said. "After going through this training, I know that I can depend on any of these Marines."
There are a lot of things the Marines should take away from this training, Korreck said.
"The most important thing is learning to fire a weapon under stress and a higher heart rate," said Korreck.
Korreck said that everyone who has gone through the training is better prepared for when they deploy.
When you take Marines out of their normal environment they tend to forget a lot of the basic training, he said.
"They have to jump right back in and do what Marines are trained to do. Every Marine is a rifleman," Korreck said.
- Sunnyside native Lance Cpl. Emmanuel Ramos is a combat correspondent with the U.S. Marines