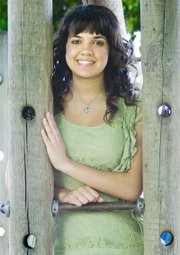 Macenzie Butler keeps herself busy and wants to be even more busy, serving as Miss Sunnyside.
She is one of 15 candidates vying for the 2011-12 Miss Sunnyside title, and said she sees it as one more way in which she can become involved in her community.
"I think it would be a great experience to be involved in the community, getting to know members of Sunnyside and meeting new people," said the Sunnyside High School student, who will be a junior this coming fall.
Butler has a passion for serving those in need. She wants to help patients of Lower Valley Hospice and Palliative Care, volunteering during the holidays and other dates of importance to the patients.
If selected to serve as Miss Sunnyside, she said, she would want to be available to patients who can't go home for family occasions like Thanksgiving and Christmas.
Hospitalization, said Butler, can be difficult for people. When they are hospitalized on occasions when families gather, it can be even more difficult.
She knows firsthand how difficult the experience can be because she has had a grandmother and a cousin who were in the hospital during special occasions.
"That is also why I want to be a nurse," said Butler.
"I see the need for people to feel a sense of connection when they are in the hospital," she said.
To earn a nursing degree, Butler said she plans to attend Big Bend Community College following her high school career.
That decision was also inspired by her grandmother, who was once a nurse and received her education at Big Bend Community College.
At SHS, Butler has served on the Knowledge Bowl team, is a member of the SHS band, Glee Club and basketball cheer squad. She is also president of the school's band, participates in drama, takes advanced placement courses and plays soccer. In addition, Butler is a member of Young Life.
Utilizing her musical talents, she plans to play the flute at the Miss Sunnyside Pageant. She has yet to decide whether she will play a piece from the musical "Carmen" or the "Ballet of the Shepherds" piece from the opera "Armide."
Butler is the daughter of Carla Bunkleman and has two younger sisters, Malayna and Madalynne Butler. She also has four other siblings.
Butler's sponsors for the 2011-12 Miss Sunnyside Pageant are Hairworks, Tolman Auto Repair, Advanced Podiatry and the Daily Buzz.