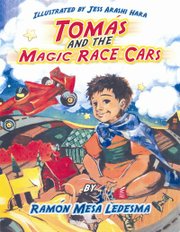 Follow what you love," Señor Eduardo Garcia tells Tomás in Ramon Mesa Ledesma's new children's book Tomás and the Magic Race Cars. "There is magic in what you love."
Surely enough, there is a bit of magic in Ledesma's heartfelt story of a nine-year-old boy, whose life changes drastically over the course of just a couple months.
At first, Tomás's life appears perfect. He has the love of his mamá and papá, and his grandparents, but Tomás also has magical race cars that make his life all the more special.
But when Tomás' mother tell him that the two of them will be moving into an apartment and his father will not be coming with them, the young boy's life is suddenly turned upside down, especially when a stranger named Rodger moves in with the pair and starts to make all kinds of rules Tomás must follow.
All of a sudden, Tomás' life isn't so perfect anymore. Even his magical race cars no longer hold any appeal as the young boy tries to make sense of his new existence.
Tomás and the Magic Race Cars is all about how Tomás' loved ones help the young boy understand his changing world, but along the way those closest to Tomás learn a lesson or two of their own, as well.
Ledesma tackles some very adult issues in Tomás and the Magic Race Cars, but he maintains all the innocence and optimism that make a worthwhile children's book.
The short story came from a dream, Ledesma says. He had the dream following his own divorce. Ledesma wrote the dream down and five years ago decided to turn it into a book.
The people and locations in the book come straight from Ledesma's own life, which lends itself to an authenticity in the story any reader can immediately pick up on. Ledesma's characters are so rich and his descriptions of the people and surroundings so vivid and colorful they can only come from real life experiences.
But most intriguing about the story is how it celebrates Tomás' Hispanic culture. The story is peppered with Spanish words and descriptions of Hispanic homes. It even includes a glossary of the Spanish words used throughout the book.
The only flaw I could find with the story (and to be fair, it is a terribly weak flaw) is with the illustrations. Illustrator Jess Arashi Hara does a fantastic job at bringing Ledesma's words to the page. Many are light and colorful, but several reflect Tomás' depression following his parent's divorce.
The "flaw" is that I wish there had been more. The story already runs more than 50 pages, but I think it would have benefited from more of Hara's beautiful art.
Tomás and the Magic Race Cars is available for purchase from migrantsun.com for $16.95.
Starting July 15, it can also be purchased from amazon.com and other book vendors.
This is Ledesma's first children's book, but he already has plans for a sequel to be released next year.
Ledesma, the son of migrant parents, grew up in various places across the Pacific Northwest, including Sunnyside. He currently resides in Sedro-Woolley.
Hara was born in Moses Lake and raised in Bellingham. Tomás and the Magic Race Cars is her debut as a children's book illustrator.