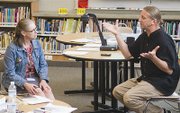 Educators learned yesterday (Thursday) that disruptive students in their class might not be trying to be so disruptive, they just might be telling them their needs are not being met.
That was according to Alex Bryan and Clark Foerster, who are involved with the Third Ear Project and were giving a class to educators from all over Yakima County as part of the Sunnyside Summer Institute held all this week at Sierra Vista Middle School.
Bryan told the educators that his goal was to make them aware of the models known as intentional communication, emotional intelligence and dynamic governance. These models, he said, can help educators deal with so-called bullies.
He said bullying is an attempt to restore or compensate for a perceived imbalance or lack of love or respect from others or one's self. Instead of these bullies just being bad students and troublemakers, they act out as a strategy to obtain justice in their eyes or they are just mirroring punishment.
"Bullying is a huge issue," Bryan said. "What we look for is what supports it."
These missing pieces include the need for mutual respect, a lack of social or emotional intelligence, and a strategy to create optimal learning environments.
The foundational concept, he said, is that human needs and values drive all behavior, feelings and words.
"These needs or values are something we all hold in common," he said. "They drive every single action we take."
Feelings, he said, are a result of a person's needs or wishes either being met or not being met. He encouraged educators who deal with bullies to listen first to themselves and then to what the need the bully is trying to express.
For instance, Bryan did a role playing exercise with Anne Stoothoff, a teacher at Riverside Christian Elementary School in Yakima. The scenario was of a student who kept snickering and making jokes about what the teacher was saying.
Stoothoff played the disruptive student and Bryan played the teacher. He tried to get the student to express what need of his was not being met. Because there was a need, or needs, not being met, Bryan also tried to get to the bottom of the feelings the student was experiencing.
It is a slow process. It takes time for the student to open up, but Bryan encouraged the educators to attempt it. The goal, he said, is to try to find out how to make it better for the student, "since we both have to be here."
To help students find their needs and help identify their feelings, Bryan uses a deck of cards with key words of needs and feelings. Some needs are trust, support, safety, fun, love and growth. Feelings can run a long gambit from grateful, happy, strong and sure, to angry, sad, frustrated or confused.
Too many times, he said, teachers confuse needs with feelings or strategies.
"Have you ever said, 'I need you to sit down and shut up?'," he asked. "Those aren't needs."
He used the example of food, which is a need.
"I don't need McDonalds french fries," he said. "McDonalds fries is the strategy to fulfilling a need for food."
Instead of telling students sit down and shut up, he encouraged using the words for universal human needs, such as quiet. Telling a student the teacher needs quiet so they can teach the class is more understandable.
He also spoke out against punishment. He didn't advocate doing nothing, but he did say a student shouldn't be punished. If they are being disruptive, they should be told so. A teacher has needs, as well. If the student can't respect that, he suggested removing them from the class, but making it clear they are not being punished. The student obviously has needs that aren't being met, but the teacher and other students have needs, as well.
So all parties' needs can be met, having the disruptive student removed without being punished, can help achieve that.
"There is a place for all of our languages, but we get confused and think there's one way for everything," Foerster added.
The three-hour presentation put out a lot of information and both Foerster and Bryan said they didn't expect the educators to take it all in. Instead, they said if they can just shift their conscious and maybe be more aware, or use a different approach when dealing with these types of students, it would be a good first start.