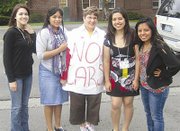 ELLENSBURG - Five Sunnyside girls gained a new perspective on their future plans and even college choices this past week.
They joined more than 200 other high school juniors from around the state for Evergreen Girls State on the CWU campus.
All five will be seniors this fall at SHS and all said the week-long experience at Girls State prompted them to aim high.
"I was thinking of going to WSU, but I'm aiming for NYU. I want to reach higher," said Ariana Romero, one of the five girls.
Still another, Addie Palencia, said she may change her plans from studying at UW to Harvard instead. "I met girls who are going there that have the same qualifications I do."
Another student, Emily Wolfe, said the camaraderie with the other girls who are also taking advanced placement courses and setting their sights on college was encouraging.
"All the girls were really polite. They were respectful and supportive," said Wolfe. "It was nice to be around other girls who have similar goals, who want to make a difference."
The focus of Girls State is on helping students understand the legislative, executive and judicial branches of government, as well as gain an appreciation for U.S. history.
Rosario Rodriguez also made the trip from Sunnyside to Ellensburg, and she said the political and government insights from Girls State have changed her future plans.
"I think I want to switch to law and justice instead of teaching," Rodriguez said. "I'd like to run for office."
While at the session, delegates were assigned living groups, or "cities," named after women of achievement. Among them were cities named for astronaut Bonnie Dunbar, Sen. Patty Murray, Sen. Maria Cantwell and Gov. Christine Gregoire, who was a Girls State delegate following her junior year in high school.
During Girls State, each girl had an opportunity to run for office and to propose new legislation.
The SHS five didn't win their elections, but two were able to see passage of bills they submitted.
Romero proposed an approved bill that required all of the girls to be on time every morning for the flag raising. Cities who had girls late in arriving had to wait in the back of the line to eat.
"Some of the groups were late in getting there," she said of the flag raising. "It seemed disrespectful.
Palencia also saw her bill passed, which encouraged a city to seek student artwork instead of hiring a professional artist for civic artwork.
Yunuenn Garcia was one of the students from SHS at CWU, and she said the experience taught her gratitude. She and the other girls all expressed gratitude for the American Legion Auxiliary and the individuals who suported them at Girls State.
"It motivated me, the way I look at things has definitely changed," says Garcia, who is considering joining the ranks of collegiate wrestlers at Southwestern Oregon Community College. "It taught me to say thanks for what you have, to learn to appreciate things."