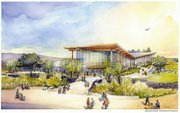 RICHLAND - The Hanford Reach Interpretive Center at Columbia Park hasn't yet been constructed, but the vision is to provide visitors to the center with an educational experience.
The project calls for two exhibition galleries, classroom space, room for community activities, a store and a café.
Displays exhibited there will provide visitors insight into Mid-Columbia region history, including how Ice Age floods shaped the land in the region.
Visitors will embark on a journey through time, following a simulated river from the Battelle White Bluffs Theater to an exhibit explaining how the land was formed.
On display will be a multitude of fossils, including camel bones, saber-tooth tiger teeth and the jaw of a short-legged rhino.
From the Land Takes Form exhibit visitors will be led to the Living Land exhibit.
There, visitors will learn how Native Americans adapted to the land and meet significant contributors to the region's history.
The river floor shows how the Columbia River is joined by the Yakima and Snake rivers.
Native wildlife will also be highlighted in the Living Land exhibit.
World War II and the Cold War brought about more change to the region, as will be exhibited in the Land Transformed Gallery. Visitors will learn about Hanford and the Manhatten Project's influence on the Mid-Columbia region. The exhibit is planned to teach those visiting about the Hanford Construction Camp, the building of the nuclear reactor, engineering challenges and the steps involved in creating plutonium.
From the Land Transformed exhibit, visitors will be led to what is referred to as the final chapter of the Hanford Reach story.
This exhibit highlights the Hanford Reach National Monument and how people can make an environmental difference.
Visitors will also be able to investigate and track ongoing ecological research and learn about the endangered species of the region.
Simulation games will enable those visiting the center to make decisions regarding environmental stewardship, including learning the challenges associated with political choices.
The site for the interpretive center is located along the Columbia River.
The estimated cost of the project is $40 million, of which $26 million has been raised so far.
To learn more, visit http://visitthereach.org.