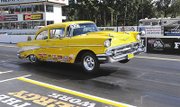 Wayne Linder Jr. of Outlook is no quitter. But, he knows the difference between a half-full glass and a half-empty one.
The realist that he is, the reigning champion of the NHRA Division 6 "Super Street" classification has already written off any and all aspirations he may have had of successfully defending his 2010 title.
"The 2011 season's barely gotten started, but it's pretty much over for me," he said.
Discounting his disappointing performances early on this year, failing to make it out of a first-round match-up even once, Linder's season came crashing down at the Division 6 competition in Spokane last weekend. Before even getting into the actual drag racing portion of the three-day event, Linder lost his ride in Friday's warm-ups on his first practice pass down the quarter-mile strip.
"Broke a rod in the engine," he lamented.
"The car had actually been running pretty well early on this season...I can't use that as an excuse for my early performances this season," he said.
"Truth be told, I just wasn't getting it done. Wasn't getting off the line well, a little slower with other things, it wasn't coming together yet," said the 14-year NHRA veteran.
With limited resources, losing the engine in his car last weekend, coupled with the poor start to this season, meant Linder pretty much had to concede that the Division 6 championship wasn't his for the taking again.
Losing his engine inflicted an even bigger blow to the quarter-mile specialist. Enroute to capturing top honors in the Super Street classification last year, he had qualified for the JEGS All-Stars championships to be held in Chicago July 8-10 of this year. In the classification in which he competes, only the top eight Super Street drag racers from around the nation are invited to that event.
Linder, however, isn't going to have to give up on his dream of competing against the big boys in Chicago.
Before he even could get his flaming yellow, 1957 Chevy off the Spokane strip last weekend, offers began pouring in from friends. "Before I left there, I had four motors and two cars offered to me," he humbly recounted.
"It's kind of hard to imagine there are people out there who are that generous," he said.
Although his Division 6 racing season is over, Linder has accepted one of his friend's offers and will still make the trip to Chicago in an attempt to salvage what he can from the 2011 season.
"A very close friend of mine, Rob Asbury of Yakima, has an engine that is very similar to the one I had," he said.
Linder's dragster is in Asbury's shop right now. "Pretty much the same set-up, except for some minor adjustments," said Linder, noting that a few alterations have to be made with the alternator, the water pump, the carb and the throttle stop.
Linder and his team hope to have the car put back together in time to test it out on Friday, July 1, at a competition at Renegade Raceway near Wapato. If everything goes well that night, he, his father and Linder's 13-year-old son will load the '57 Chev into a trailer and begin the trek back to Chicago the following day. The rest of his team - Linder's wife and daughter, as well as Asbury - will fly to Chicago a few days later.
"After Chicago, we'll be pretty much done for the year," Linder said. "But hopefully we'll give 'em a good show back there, and who knows...maybe 2011 won't turn out the way it started."