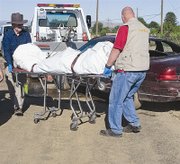 A 34-year-old Sunnyside man was killed early this morning when he backed his car into a canal ditch three miles southwest of Sunnyside.
Jose L. Negrete was pronounced dead at the scene.
Washington State Patrol Sgt. Tom Foster said it is believed Negrete tried to turn around on a narrow canal road just off Emerald Road. Negrete backed his vehicle, a 1996 Chevy Monte Carlo, too far and it went into Sunnyside Valley Irrigation District's lateral SN 906 and flipped over on its roof.
The time is believed to have been around 1:30 a.m. Foster said the Washington State Patrol received a call of a vehicle matching Negrete's around that time. The call was of a vehicle that had been involved in a collision. When troopers arrived they only found tracks. Orchard workers found Negrete's vehicle early this morning.
His brother worked at an orchard bordering the canal and was able to identify the body.
It was unknown whether the victim was wearing a seatbelt, and troopers are investigating whether alcohol was involved.