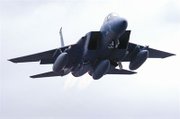 The Sunnyside Lions Club has confirmed a military flyover will take place during the annual Sunnyside Community Fourth of July celebration.
A pilot from the Oregon Air National Guard's 142nd Fighter Wing will fly over Sunnyside at 11:45 a.m. The F-15 will be flown from a point over Sunnyside's Centennial Square east on Edison Avenue.
The jet is one of many that protects Pacific Northwest skies, and the Air National Guard has been an integral part of the nation's defense for more than 70 years.