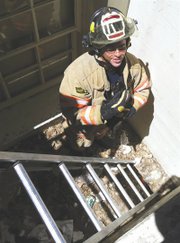 Firefighters are called upon to rescue creatures of all types, both large and small. Last Friday, Sunnyside firemen came through for a fur ball that couldn't fend for itself.
A citizen walked into the fire station, telling the firefighters they needed to rescue a poor, helpless kitten that was trapped well beneath ground level at the downtown post office.
"That's what firemen do, right?" the concerned woman asked Fireman Ryan Savage, who was responsible for the rescue effort.
He said he responded to the woman's plea for help for the feline and ran next door to assess the situation.
Seeing the cat was stuck inside a window well that was approximately eight-feet deep, Savage ran back to the station and grabbed a ladder.
"It's not something you do all the time, but all firefighters want to do it," said Savage, admitting the rescue is one of those stereotypical images firefighters have when entering their chosen field of employment.
Savage carefully lowered the ladder into the window well near the post office basement and climbed down inside the window well.
He said the scared kitten, a fur ball on the verge of panic, was none too pleased to see him, however.
Savage sweet-talked the petrified creature and pet it, allowing it to learn he meant it no harm.
Eventually, the cat succumbed to his efforts and allowed Savage to hoist it into his arms.
As he climbed the ladder, the kitten even tried climbing into Savage's coat.
As the pair emerged from the depths of the window well, the kitty saw an opportunity to beat feet and it flew from Savage's grasp.
"It took off," he said.
All-in-all, the rescue was considered a success for firefighters and the citizens who gathered 'round to see the action.
In other Sunnyside Fire Department news, firefighters have since last Thursday responded to a report of a structure fire in the 600 block of East Decatur Avenue, an electrical issue and nine aid calls.
The fire, reported just before 1:30 p.m. last Friday, was actually an overheated ballast.
The electrical issue was reported last night (Sunday) at 11:14 p.m. Further details were not available as of press time.
Of the patients receiving aid from paramedics, five were transported to Sunnyside Community Hospital by ambulance.
Also, the ambulance service provided three patients transport from the hospital to other medical facilities.