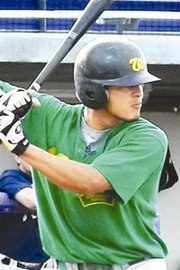 WINCHESTER, VA. - He was an MVP at Sunnyside High School, an all-star at YVCC and today Gibby Briones is tearing it up in a 12-team college baseball summer league in Virginia.
Briones is his team's leading hitter with an impressive .358 batting average while playing third base for the Winchester Royals.
An athlete who pitched at times while at SHS, Briones has also seen three innings of relief work with the Royals, sporting a 3.00 ERA.
Making this all the more impressive is that Briones is finding success against NCAA Div. 1 pitching. He's playing with and against players from major colleges like West Virginia University and Vanderbilt University.
Though it's a league of collegiate, amateur players, Briones is in a league where the players are sought for their autographs and watched closely by scouts from Major League Baseball teams.
The league, called the Valley Baseball League, is sponsored in part by Major League Baseball.
The Winchester Royals have produced 23 Major League Baseball players over the past 30 years. Their top protégé was Reggie Sanders, who smacked 305 home runs and stole 304 bases in 17 big league season
"It's good being in a baseball environment where there's 500 to 1,000 fans a game," Briones said of playing for the Royals. "Every pitcher we face is from a big time university."
Briones added, "A couple of scouts came up and shook my hand, told me to keep it up."
The success is gratifying for Briones, who struggled at the plate at times when playing college ball as a junior this past season for Campbellsville University, an NAIA Div. 1 school in Kentucky.
His father, Sunnyside's Gilbert Briones Sr., said the move 3,000 miles away was a big adjustment for his son, who at one time endured a 1-for-25 slump on the way to a .225 batting average for Campbellsville.
"He was used to seeing family and friends in the stands for all his games," the elder Briones said. "He experienced success at every level before that."
Finding that success now at the major college level, the younger Briones is setting his sights on staying at that level when he goes back to college this fall.
Briones said he is considering asking Campbellsville for a release so he can finish up his studies - and collegiate baseball career - at a NCAA Div. 1 school in Oregon or California.
It's all part of his goal at drawing the attention of pro ball scouts and signing a minor league contract. "I'm going to try and stand out and hopefully sign with someone this year or next year," he said.
The elder Briones praised his son's determination at the collegiate level, especially after the slow start. "They threw a lot of off-speed pitches, so he knew what he had to work on. He practiced his butt off," he said.
Even with the success on the baseball diamond, the senior Briones said he reminds his son about priorities.
"I tell him to take baseball as far as he can, but keep up with the schooling," he said.