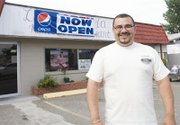 GRANDVIEW - The building has been empty for nearly a year, but Juan Marquez found it to be a perfect spot for La Cabana Restaurant.
Located across from the Grandview Safeway on East Wine Country Road in Grandview, what was once La Hacienda, now is under the ownership of Marquez.
He has more than three decades experience making Mexican fare. A little more than 20 of those years were spent learning to make his famous tacos from his mother and selling them in Mexico.
Approximately 10 years ago, Marquez immigrated to the U.S. He owned a lunch truck in California and about five years ago brought his business to Sunnyside, where he owned La Victoria and operated a taco truck that opened each day in front of El Valle Restaurant.
"This location (in Grandview) is more busy," said Marquez, noting the location of La Cabana is in a high-traffic area and has more space than his restaurant in Sunnyside did.
He said he sold both the taco truck and La Victoria to open the restaurant in Grandview.
Many of the dishes Marquez and his family prepares are traditional Mexican fare, such as breakfast burritos, tacos and tortas. Pozole, menudo and tamales are available on the weekends, and there are two-for-one deals on the pozole and menudo.
Marquez also seeks to go easy on the budget of his customers. Students receive a free soda with the purchase of three tacos. A buffet is available from 11 a.m. to 3 p.m., and from 3 to 10 p.m. all tacos are $1.
In the morning hours, those wanting a breakfast burrito have a variety of choices for $1.79 each.
Marquez also has on his menu hearty combination plates...all are less than $10 each.
Although Marquez himself may not be seen at the restaurant at all hours of operation, his family and friends will greet customers with a warm welcome.
The restaurant is open Monday through Friday from 6 a.m. to 10 p.m., Saturday from 7 a.m. to 10 p.m. and Sunday from 8 a.m. to 9 p.m. Call-in orders are welcome at 882-1703.