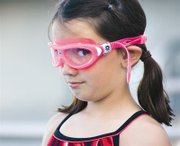 Launching a couple of Broersma bombshells, a Harrington hand grenade and a Perez pistol, as well as throwing in the Butter Cutter for good measure, the Sunnyside Sharks exploded for a 556-390 victory over the visiting Toppenish Tarpons last night.
Tuesday's win improved the Sharks' overall record in the 2011 Mid-Valley Summer Swim League standings to 3-1.
The Broersma sisters, Brittany and Marisa, as well as Aydan Harrington, Alex Perez and Ashlee Maldonado combined to help secure a total of 27 victories for Sunnyside.
The Sharks picked up another 24 wins against Toppenish, due in large part to the efforts of Reese Gray, who swept all four of the girls 8&U races; Parker Van de Graaf, who won four of the five boys 10&U individual events as well as being a member of both winning relay teams in his age division; and Cristian Vargas, a three-time winner at boys 18&U. Two-time winners for Sunnyside in the individual events included Logan Rodriguez (boys 8&U) and Payton Sample (girls 14&U).
Toppenish mustered just 22 first-place finishes on the night, compared to the 51 total victories notched by the Sharks.
In terms of pure athleticism, it was the older of the two Broersma sisters, Marisa, who staged the splashiest performances against the Tarpons. A girls 18&U swimmer, she came oh so close to establishing two records in Sunnyside's Olympic-sized 50-meter pool.
In the 50-meter butterfly, Broersma churned the length of the pool in 33.93 seconds. The clocking was just a shade, about three-tenths of a second, slower than the 2003 pool record set by Prosser's Betheny Gurtisen for that age division (33.61).
The 18-year-old Broersma also nearly pulled off a pool record in the 50-meter freestyle, established by Wapato's Erin Brandt in the older girls age division back in 1997. Brandt's time was 30.62 seconds. Last night, Broersma recorded a clocking of 30.95 seconds.
Broersma went on to win all five of the older girls age division individual events, and was in on both of the victories in the two relay races for her age bracket.
Younger sister Brittany, a girls 16&U competitor, came out on top last night in the 50-meter breaststroke, freestyle and backstroke events, as well as in the 200-meter individual medley. She placed second in the 50-fly behind Toppenish's Alexis Medelez, who won the race in a time of 34.19 seconds. Broersma's time was 34.50 seconds.
Harrington (girls 12&U) and Perez (boys 14&U) also proved to be dynamos for Sunnyside last night. The two Sharks combined to win nine of the 10 individual races in those two age divisions.
Maldonado, or as she has affectionately come to be called the Butter Cutter, sliced her way through the girls 10&U competition last night, winning all five individual events, and was on the two winning relay squads in her age division.
Sunnyside is scheduled to compete at Naches this coming Thursday evening.
TOPPENISH 390
SUNNYSIDE 556
200-METER MEDLEY RELAY
Girls 10&U
1st-Sunnyside (K. Bunch, A. Davis, A. Maldonado, B. Hazzard) 3:19.91
Boys 10&U
1st-Sunnyside (C. Schilperoort, P. Van de Graaf, I. Gonzalez, J. Heffron) 3:51.93
Girls 12&U
1st-Sunnyside (J. Mendoza, S. Salas, A. Harrington, E. Banks) 2:53.32
Boys 12&U
1st-Toppenish (N. Koerner, S. Clark, J. Imperial, J. Caudillo) 2:58.04
Girls 14&U
1st-Sunnyside (A. Davis, H. Vergara, P. Sample, L. Schilperoort) 2:42.47
Boys 14&U
1st-Toppenish (J. Supnet, A. Davalos, D. Maltos, J. Clark) 2:38.91
Girls 18&U
1st-Sunnyside (M. Marquez, B. Broersma, T. Van Corbach, M. Broersma) 2:36.88
Boys 18&U
1st-Toppenish (N. Huylar, J. Klarich, V. Valdez, J. Kingele) 2:22.44
50-METER BUTTERFLY
Girls 8&U
1st-Reese Gray (S) 1:12.90, 2nd-Summiet Brown (T) 1:34.97, 3rd-Arriana Sanchez (S), 4th-Alexia Cillarruel (T)
Boys 8&U
1st-Logan Rodriguez (S) 1:18.47, 2nd-Luke Regimbal (T) 1:24.73, 3rd-Henry Olsen (T), 4th-Cesar Vargas (S)
Girls 10&U
1st-Ashlee Maldonado (S) 45.02, 2nd-Jessica Scheenstra (S) 55.53, 3rd-Alexandra Partch (S), 4th-Gentri Gray (S)
Boys 10&U
1st-Parker Van de Graaf (S) 1:01.33, 2nd-Johnny Heffron (S) 1:02.15, 3rd-Clay Schilperoort (S), 4th-Aidan Ward (T)
Girls 12&U
1st-Aydan Harrington (S) 36.05, 2nd-Jolissa Mendoza (S) 41.68, 3rd-Emilee Maldonado (S), 4th-Hunter Perez (S)
Boys 12&U
1st-Jonathan Imperial (T) 37.17, 2nd-Nathan Koerner (T) 41.86, 3rd-Sam Clark (T), 4th-Mak Shergill (S)
Girls 14&U
1st-Payton Sample (S) 36.47, 2nd-Katrina Johnson (T) 39.73, 3rd-Lindsay Schilperoort (S), 4th-Heidi Vergara (S)
Boys 14&U
1st-Joe Clark (T) 35.73, 2nd-Alex Perez (S) 35.85, 3rd-Jordan Supnet (T), 4th-Devante Maltos (T)
Girls 16&U
1st-Alexis Medelez (T) 34.19, Brittany Broersma (S) 34.50, 3rd-Alexandra Newhouse (S), 4th-Tara Van Corbach (S)
Boys 16&U
1st-Nicholas Huylar (T) 32.19, 2nd-Jeremy Klarich (T) 32.50, 3rd-Giovanni Rodriguez (S), 4th-Enrique Davalos (T)
Girls 18&U
1st-Marisa Broersma (S) 33.93, 2nd-Beth Klingele (T) 35.95, 3rd-Emily Hutchins (S), 4th-Myxike Tanewasha (T)
Boys 18&U
1st-Cristian Vargas (S) 31.63, 2nd-Omar Vergara (S) 32.73, 3rd-Dillon Beard (T), 4th-Jared Klingele (T)
50-METER BREASTSTROKE
Girls 8&U
1st-Reese Gray (S) 1:10.31, 2nd-Abigail Albrecht (S) 1:14.76, 3rd-Arianna Sanchez (S), 4th-Aline Anderson (S)
Boys 8&U
1st-Luke Regimbal (T) 1:20.73, 2nd-Logan Rodriguez (S) 1:21.38, 3rd-Henry Olsen (T)
Boys 10&U
1st-Johnny Heffron (S) 55.45, 2nd-Parker Van de Graaf (S) 1:08.27, 3rd-Clay Schilperoort (S), 4th-Alec Bazaldua (T)
Girls 12&U
1st-Aydan Harrington (S) 47.97, 2nd-Ariana Regimbal (T) 48.40, 3rd-Sahara Maltos (T), 4th-Sadie Salas (S)
Boys 12&U
1st-Jonathan Imperial (T) 43.71, 2nd-Adrian Heffron (S) 50.64, 3rd-Sam Clark (T), 4th-Mak Shergill (S)
Girls 14&U
1st-Heidi Vergara (S) 43.09, 2nd-Kalie Bestebreur (S) 46.16, 3rd-Katrina Johnson (T), 4th-Katelyn Hazzard (S)
Boys 14&U
1st-Alex Perez (S) 41.57, 2nd-Jordan Supnet (T) 41.89, 3rd-Joe Clark (T), 4th-Fox Rodriguez (S)
Girls 16&U
1st-Brittany Broersma (S) 42.03, 2nd-Alexandra Newhouse (S) 45.33, 3rd-Katie Klingele (T), 4th-Alexis Medelez (T)
Boys 16&U
1st-Giovanni Rodriguez (S) 40.22, 2nd-Jeremy Klarich (T) 40.25, 3rd-Victor Valdez (T), 4th-Nicholas Huylar (T)
Girls 18&U
1ST-Marisa Broersma (S) 40.95, 2nd-Beth Klingele (T) 46.98, 3rd-Emily Hutchins (S), 4th-Myxike Tanewasha (T)
Boys 18&U
1st-Dillon Beard (T) 38.10, 2nd-cristian Vargas (S) 38.72, 3rd-Edgat Vargas (S), 4th-Jared Klingele (T)
50-METER BACKSTROKE
Girls 8&U
1st-Reese Gray (S) 1:06.31, 2ND-Alexia Villarruel (T) 1:13.15, 3rd-Andrea Sandoval (T), 4th-Aline Anderson (S)
Boys 8&U
1st-Logan Rodriguez (S) 1:12.39, 2nd-Cesar Vargas (S) 1:23.46, 3rd-Luke Regimbal (T), 4th-Henry Olsen (T)
Girls 10&U
1st-Ashlee Maldonado (S) 50.70, 2nd-Kylah Bunch (S) 50.88, 3rd-Janessa Frank (S), 4th-Jessica Scheenstra (S)
Boys 10&U
1st-Parker Van de Graaf (S) 58.81, 2nd-Clay Schilperoort (S) 1:03.64, 3rd-Aidan Ward (T), 4th-Johnny Heffron (S)
Girls 12&U
1st-Aydan Harrington (S) 42.22, 2nd-Sara Van Corbach (T) 44.58, 3rd-Jolissa Mendoza (S), 4th-Hunter Perez (S)
Boys 12&U
1st-Nathan Koerner (T) 41.48, 2nd-Jonathan Imperial (T) 43.26, 3rd-Adrian Heffron (S), 4th-Sam Clark (T)
Girls 14&U
1st-Lindsay Schilperoort (S) 42.42, 2nd-Tiana Perez (S) 43.07, 3rd-Payton Sample (S), 4th-Danielle Zyph (T)
Boys 14&U
1st-Alex Perez (S) 40.71, 2nd-Christopher Martin (S) 40.77, 3rd-Alex Davalos (T), 4th-Jordan Supnet (T)
Girls 16&U
1st-Brittany Broersma (S) 37.31, 2nd-Alexis Medelez (T) 39.27, 3rd-Madi Marquez (S), 4th-Alexandra Newhouse (S)
Boys 16&U
1st-Nicholas Huylar (T) 37.32, 2nd-Jeremy Klarich (T) 38.11, 3rd-Giovanni Rodriguez (S), 4th-Enrique Davalos (T)
Girls 18&U
1st-Marisa Broersma (S) 37.36, 2nd-Beth Klingele (T) 45.75, 3rd-Emily Hutchins (S), 4th-Myxike Tanewasha (T)
Boys 18&U
1st-Cristian Vargas (S) 34.79, 2nd-Dillon Beard (T) 35.42, 3rd-Omar Vergara (S), 4th-Jared Klingele (T)
50-METER FREESTYLE
Girls 8&U
1st-Reese Gray (S) 57.18, 2nd-Arianna Sanchez (S) 1:04.69, 3rd-Abigail Albrecht (S), 4th-Summiet Brown (T)
Boys 8&U
1st-Luke Regimbal (T) 57.65, 2nd-Logan Rodriguez (S) 1:00.82, 3rd-Erick Vergara (S), 4th-Kaden Ruggles (T)
Girls 10&U
1st-Ashlee Maldonado (S) 38.68, 2nd-Janessa Frank (S) 43.05, 3rd-Kylah Bunch (S), 4th-Savannah Maltos (T)
Boys 10&U
1st-Parker Van de Graaf (S) 45.45, 2nd-Johnny Heffron (S) 46.92, 3rd-Clay Schilp[eroort (S), 4th-Izaiah Gonzalez (S)
Girls 12&U
1st-Aydan Harrington (S) 35.53, 2nd-Ariana Regimbal (T) 37.11, 3rd-Sara Van Corbach (T), 4th-Katie Doonan (T)
Boys 12&U
1st-Jonathan Imperial (T) 33.55, 2nd-Adrian Heffron (S) 33.77, 3rd-Nathan Koerner (T), 4th-Sam Clark (T)
Girls 14&U
1st-Payton Sample (S) 33.77, 2nd-Katelyn Banks (S) 34.76, 3rd-Katrina Johnson (T), 4th-Tiana Perez (S)
Boys 14&U
1st-Alex Perez (S) 31.19, 2nd-Alex Davalos (T) 32.13, 3rd-Jordan Supnet (T), 4th-Devante Maltos (T)
Boys 16&U
1st-Jeremy Klarich (T) 29.98, 2nd-Nicholas Huylar (T) 30.69, 3rd-Giovanni Rodriguez (S), 4th-Enrique Davalos (T)
Girls 18&U
1st-Marisa Broersma (S) 30.95, 2nd-Beth Klingele (T) 33.03, 3rd-Kendra Hollmeyer (S), 4th-Emily Hutchins (S)
Boys 18&U
1st-Dillon Beard (T) 29.27, 2nd-Cristian Vargas (S) 30.63, 3rd-Omar Vergara (S), 4th-Jared Klingele (T)
200-METER FREESTYLE RELAY
Girls 10&U
1st-Sunnyside (A. Davis, E. Broersma, A. Rodriguez, A. Maldonado) 3:10.68
Boys 10&U
1st-Sunnyside (P. Van de Graaf, C. Schilperoort, J. Heffron, I. Gonzalez) 3:28.69
Girls 12&U
1st-Toppenish (M. Lopez, E. Stewart, S. Van Corbach, A. Regimbal) 2:43.66
Boys 12&U
1st-Toppenish (N. Lewis, S. Clark, J. Imperial, J. Sanchez) 2:36.70
Girls 14&U
1st-Sunnyside (L. Schilperoort, A. Hudgen, K. Banks, P. Sample) 2:28.77
Boys 14&U
1st-Toppenish (J. Supnet, J. Clark, D. Maltos, A. Davalos) 2:20.18
Girls 18&U
1st-Sunnyside (B. Broersma, M. Marquez, T. Van Corbach, M. Broersma) 2:18.35
Boys 18&U
1st-Toppenish (D. Beard, J. Kingele, N. Huylar, J. Klarich) 2:06.48
200-METER INDIVIDUAL MEDLEY
Girls 10&U
1st-Ashlee Maldonado (S) 3:52.21, 2nd-Makayla Koerner (T) 4:09.40, 3rd-Lily Stewart (T), 4th-Janessa Frank (S)
Boys 10&U
1st-Clay Schilperoort (S) 4:47.52, 2nd-Johnny Heffron (S) 4:51.71, 3rd-Aidan Ward (T), 4th-Ulysses Vazquez (T)
Girls 12&U
1st-Aydan Harrington (S) 3:19.76, 2nd-Ariana Regimbal (T) 3:48.87, 3rd-Sahara Maltos (T), 4th-Emily Banks (S)
Boys 12&U
1st-Jonathan Imperial (T) 3:24.13, 2nd-Nathan Koerner (T) 3:28.77, 3rd-Sam Clark (T), 4th-Adrian Heffron (S)
Girls 14&U
1st-Katelyn Banks (S) 3:18.29, 2nd-Payton Sample (S) 3:19.45, 3rd-Lindsay Schilperoort (S), 4th-Katrina Johnson (T)
Boys 14&U
1st-Alex Perez (S) 3:08.51, 2nd-Joe Clark (T) 3:21.08, 3rd-Jordan Supnet (T), 4th-Alex Davalos (T)
Girls 16&U
1st-Brittany Broersma (S) 3:01.07, 2nd-Alexis Medelez (T) 3:-09.77, 3rd-Madi Marquez (S), 4th-Alexandra Newhouse (S)
Boys 16&U
1st-Jeremy Klarich (T) 2:49.28, 2nd-Nicholas Huylar (T) 2:57.36, 3rd-Giovanni Rodriguez (S), 4th-Enrique Davalos (T)
Girls 18&U
1st-Marisa Broersma (S) 2:55.02, 2nd-Beth Klingele (T) 3:38.52, 3rd-Myxike Tanewasha (T)
Boys 18&U
1st-Cristian Vargas (S) 2:54.48, 2nd-Dillon Beard (T) 2:57.97, 3rd-Jared Klingele (T), 4th-Omar Vergara (S)