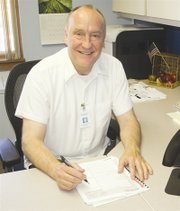 An experience on a medical mission to Haiti during his college years helped shape the career of Dave Olson, Sunnyside Community Hospital's new COO.
Olson said he initially wanted to be a doctor, but the experience in helping to administer the medical mission for four years not only showed him his strengths in that area, but the good it could do in delivering health care services.
Olson started his post here in June, arriving in Sunnyside from Portland, Ore., where he was a hospital administrator.
He said he jumped at the chance to seek the Sunnyside post in part because he's known hospital CEO Jon Smiley for nearly two decades.
Olson said he appreciates Smiley's fixture as a long-time success as a hospital CEO, both here and elsewhere.
"I came here because I think this is a good hospital and I think we can make it an even better hospital in the years to come," Olson said.
He says he's a people person who looks forward to getting better acquainted with the Sunnyside community and finding a church home.
Olson says his approach to hospital administration is to help the overall team focus on the patients. To that end, he says he likes "bridge building, collaborating, working with others."
At the same time he looks forward to assisting efforts by the hospital's foundation.
Another focus, Olson says, is providing more services over time so patients can be assisted even more locally.
All the while, Olson says the big picture for him both as a COO and member of the Sunnyside community stems back to that mission experience in Haiti.
"It's not what you do, it's what you become and helping other people in the process as you live your life," he said.