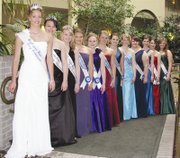 LYNNWOOD - After spending the past year as the Yakima Valley Dairy Ambassador, Sunnyside's Kristen Wedam will now get back to her school work at Washington State University after competing for the title of Washington State Dairy Ambassador last week.
"It was a good experience," Wedam said of the state competition she participated in with eight other young ladies.
The Washington State Dairy Women selected Shannon Rodeffer of Snohomish County as the 2011-12 Washington State Dairy Ambassador.
"I'm so grateful for the opportunity," she said after the coronation ceremony last Friday. "I'm looking forward to sharing stories about dairy."
Emily Neff of Marysville and Laurel Bareman of Lynden were named as alternates.
The nine girls had to complete several tasks for judges in the competition last week. Wedam said she gave two prepared speeches, one impromptu speech, a school presentation and participated in two outreach events.
"I was very well prepared," she said.
Although Wedam was not offered a State position, she said it was a great experience and was glad she competed.
"The knowledge and experience I gained in preparation are invaluable," she said. "I really appreciate the support that was offered to me by the community. I am very excited for Sabrina Mensonides' year (current Yakima Valley Dairy Ambassador) - she is a wonderful young lady and has many great experiences ahead."
Wedam also had praise for Kristyn Mensonides, who was the 2009-10 Yakima Valley Dairy Ambassador and the 2010-11 Washington State Dairy Ambassador.
"It will be difficult for anyone to fill her shoes," Wedam added.
Wedam wishes Rodeffer and her two alternates luck as they embark on what she said will be an opportunity filled year.
As a representative of the Dairy Farmers of Washington, Rodeffer will visit schools, attend county fairs, appear at Washington Interscholastic Activities Association events and speak before the Washington state legislature promoting the health and nutrition benefits of dairy products.
The Dairy Ambassador program began in 1955.
Wedam is currently conducting research in Pullman. She is researching the immune responses in chickens due to mosquitoes.
Her year as Yakima Valley Dairy Ambassador and attending the state competition has been invaluable to her and fun.
"I made some really good friends," she said.