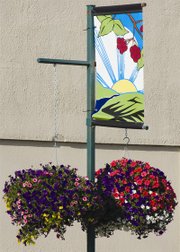 There's a new addition to the flower baskets that dot downtown Sunnyside, as a total of 80 new banners commissioned by the city now adorn the downtown area.
The banners are intended to show off the local legacy, such as dairies, the ag economy and the farm implement parade.
A downtown improvement committee appointed by the city council commissioned the banners by local graphic artist Ray Morrow.
"We wanted concepts of what the valley represented and what Sunnyside represented," said committee member Bill Flower. "That's how they were designed."
Flower said the funds for the banners came from a combination of contributions made by downtown merchants and a donation by the city of Sunnyside.
Morrow presented 14 different concepts for the banners and the committee chose eight, commissioning 10 banners of each design at a cost of about $90 each.
Morrow said that was a half-price charge for the project in both the design and printing of the banners.
"I cut my prices in half because it was a great opportunity to work locally," he said. "It was a blast."
Morrow said the project took about two weeks from start to finish.
He said he was pleased to see Sunnyside pursue its own style of banners, instead of running the wine valley banners that are often seen in cities up and down the Yakima Valley.
"We wanted to show that we do more than wine," Morrow said. "We wanted to show other local industries."
-