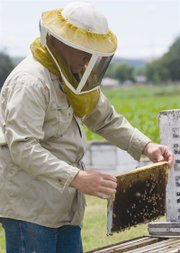 As a youngster, Sunnyside's Huston Osborn became fascinated with bees, as an adult he enjoys keeping them to harvest the honey they make.
"I liked catching bees and painting them," he said of his youth.
Osborn, the proprietor of Divine Bear Honey, would watch for his "painted" bees as they pollinated the flora near his Grandview home.
About a decade ago, he established his first hives.
Osborn said being a beekeeper keeps him busy when he isn't keeping up with his children and his full-time job.
"Spring is the busiest season and summer is also busy," he said.
During the spring months, said Osborn, establishing new hives is the easiest because pollen counts are highest.
A friend, who is also a beekeeper, helped Osborn establish his hives. This past spring that friend helped him again after the depletion of the number of hives he had.
"I went from 75 hives to just six because of mites and winter," said Osborn, who has built the number of hives back to 31.
He wants to have 50 hives by the end of this coming fall.
Beekeeping is not easy, said Osborn. He knows a beekeeper who lost 80,000 hives in California this past winter.
When the hives are home, a beekeeper checks each hive on a regular basis. Osborn said beekeepers must monitor the health of the bees because just like any other living being diseases and viruses can afflict a colony.
Many illnesses can be treated with medication.
Newer hives, too, must be closely monitored to ensure enough eggs were left behind for a new queen to establish a full colony.
Royal jelly must be produced by the workers to ensure the queen's ability to mature and thrive.
When one queen lays an egg from which a new queen is hatched, Osborn removes the older queen and her workers to establish a new hive.
This also must be done, he said, because the older queen will destroy the new queen.
A new hive must be moved to another location so the workers in the hive will recognize the queen's scent, said Osborn.
He said he moves his new hives to a location about two miles from the primary location of his more established hives. About two weeks after doing that, he will bring the hive back to his property and allow the bees to become familiarized with their surroundings.
Osborn said his property is located in a good spot because he is surrounded by agricultural land. He also is within distance of city limits, giving his bees the ability to pollinate local gardens.
He said his bees are particularly productive during mint harvest, producing a dark, rich honey.
"It's just really fascinating to watch how they interact," said Osborn.
He said bees have the mannerisms of any other animal. "They have different temperaments...some are angry, while others are mellow."
For that reason, Osborn said beekeepers often are selective regarding the breed of bees they will raise.
"I just really enjoy it," he said of beekeeping.