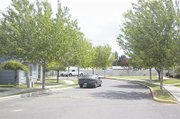 Hoping to spur interest in the plight of local farm laborers, the Washington Farmworker Housing Trust sponsored a bus tour yesterday to give interested parties a tour of affordable housing for farm laborers.
Brien Thane, executive director of Washington Farmworker Housing Trust, said the agency brings together growers and housing providers that are determined to solve the need for quality housing for farm workers.
The reason is simple.
"We can't sit around and wait for growers to figure out the housing problem," he said.
An action plan put together by the trust claims it should be a necessity for farm workers to be able to afford housing and still have enough money left over for basics like groceries, gas and childcare services. The trust claims this is simply not the case for many farm worker families in Yakima County.
It is estimated an additional 13,000 units of safe, affordable farm worker housing is needed. Because of the shortage many farm workers and their families must live in unaffordable, overcrowded and substandard housing. According to the action plan, these existing housing conditions jeopardize the skilled, stable workforce that Yakima County's economy needs.
It is the goal of Washington Farmworker Housing Trust to build at least 360 new units to house 1,800 farm workers and their families by 2015.
In a survey completed by Washington Farmworker Housing Trust it was found that 53 percent of farm workers interviewed in Yakima and Klickitat counties spent more than the federal standard of 30 percent of their income for housing costs. An additional 27 percent of farm workers lived in substandard housing; 35 percent lived in overcrowded conditions; and 56 percent of farm workers had children in the home.
Currently there are 676 year-round rental homes dedicated to farm worker families in Yakima County, which house approximately 3,575 people. There are an additional 904 grower-owned beds. But that is not enough, according to Washington Farmworker Housing Trust. More than 65,000 farm workers and family members in Yakima County do not have a safe, affordable home.
To show people what safe, affordable homes look like, the bus tour began at Buena Nueva in Buena. The housing project has 35 units, with 10 dedicated for seasonal workers.
Owned by Catholic Charities Housing Services, Director Bryan Ketcham said the housing project benefits the community. All residents pay their own rent, but they pay almost $200 less than standard market rates.
"This has a significant impact for the residents and the surrounding economy," Ketchum said.
He said that $200 being saved on rental rates is being pumped into local grocery stores, gas stations and restaurants.
The bus tour also stopped at two properties in Yakima owned by the Yakima Housing Authority. One project was Mariposa Park and the other was Valley Seven.
Mariposa Park was completed in 1999 and has 26 units. Valley Seven has 147 units scattered across seven sites.
These housing projects provide many benefits, offering sanitary conditions, which eliminates risk to public health. The projects also keep farm workers from camping illegally.
The tour finished at the Stover Farmwoker Housing unit in Harrah. Owned by Inaba Produce Farms, owner Lon Inaba said he built one unit in 1989 and another in 2007. He received help from the USDA Rural Development and the Department of Commerce Development.
At the newest building there is space for 24 people. At the building built in 1989 there is space for 48 people.
"They're pretty basic, but they're clean and tough," Inabe said of the units.
He charges each person living in the housing units $3 a day.
Catholic Charities Housing Services are in the application stage to build new housing projects in Grandview and Quincy.