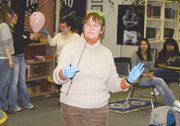 On the heels of President Obama's State of the Union speech providing encouragement to celebrate science, a crowd of parents and students in the Sunnyside School District did just that last night, Monday, at the SHS library.
The gathering was to announce the results of this past Saturday's Sunnyside Science Fair.
A total of 53 SHS students participated in the science contest.
The overall local grand prize for SHS participants was earned by Zach Halma.
Liliana Rangel took home first place honors.
Second place honors went to Sarah Berumen and third place was presented to Tara Van Corbach.
High school participants receiving honorable mention recognition were Lupe Acosta, Jessica Bonilla, Daniel Estrada, Marthy Hernandez, Juan Rodriguez, Baylie Yates, Amanda Villareal, Cynthia Van Wingerden, Jasmine Gonzalez, Anna Estrada, Joanna Mendoza, Maria Montoya, Charley Rollinger and Adilene Torres.
In the middle school competition, Alvaro Iniguez took home the first place award, while Andrew Diddens was second and Cole Gardner was third.
Middle school students earning honorable mention awards last night were Alyson Spidle, Claudia Pena, Diana Chavez and Mikaela Chavez.
All of the students except Iniguez, who attends Sierra Vista Middle School, attend Harrison Middle School.
Next up for the district's science fair winners will be the Mid-Columbia Regional Science and Engineering Fair March 10-11 in the Tri-Cities.