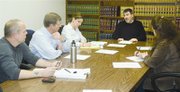 The Sunnyside Lodging Tax Advisory Committee met yesterday (Tuesday) to consider a proposal by the Uptown Sunnyside Association.
The proposal by the association asks the city for $9,000 to continue a project of hanging flower baskets in the downtown area. The association also wants an additional $5,000 to purchase banners that can be hung from street poles.
The question posed to the Lodging Tax Advisory Committee was whether the city can use lodging tax funds for the project.
At yesterday's meeting, city attorney Quinn Plant told the committee that there are two ways to spend lodging tax funds. The money can be used to promote tourism or to acquire or operate a tourism facility.
In 2010, Sunnyside High School students created and installed street poles to hang flower baskets and signs in the downtown corridor. The flowers added color and greatly improved the appearance of downtown Sunnyside. The city council has indicated it believes the flowers and the addition of the proposed banners enhance the ambiance of the city, which in turn brings more visitors to Sunnyside.
But Plant said the proposal, as he reads it, calls for an expenditure to beautify downtown in hopes of increasing tourism. But the fact that the design of the proposal is to beautify Sunnyside and not to support a tourism board or support an event is where the problem lies.
"It's probably questionable that this promotion meets the requirements to promote tourism," Plant said.
Lodging Tax Advisory Committee members Tom Denlea and Chris Gardner agreed. Gardner said he didn't feel comfortable with it and Denlea questioned the return on the investment.
Other committee members agreed as well, rhetorically asking if someone would travel 50 miles to see flower pots and banners.
Sunnyside Mayor Jim Restucci asked if the banners promoted some type of event would the committee consider supporting the use of lodging tax funds. The other committee members said they couldn't support that idea.
Denlea said the idea sounded more like a plan that the downtown businesses should get behind, noting it would be them that would benefit the most from the flower baskets and banners. The four committee members on hand, Restucci, Denlea, Gardner and Pam Turner, were united in the belief that the proposal didn't meet the required guidelines to use the lodging tax funds.
Restucci said the city council is convinced that the project has merit and expressed no doubt that the city council will find the funds elsewhere for the flower baskets and banners.