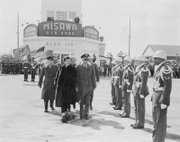 In 1957, Sunnyside's Mike Diaz was a Private First Class in the United States Army and stationed at an Air Force base in Misaw, Japan, when he crossed paths with late Hollywood actress Jane Russell.
Diaz had been named soldier of the month when Russell visited Japan. As soldier of the month, Diaz was placed on the Honor Guard that escorted Russell on her tour of the base. Russell's USO Tour included a performance on the weekend, but Diaz was on duty and not able to attend.
But an Air Force photographer snapped a picture of Russell as she toured the base, with Diaz and the Honor Guard following close behind.
The actress's death two days ago, on Feb. 28, had Diaz recalling his days in the military. He says there was a different star nearly every weekend who performed for the troops through the USO Tour, but Russell and Hollywood comedian and star Bob Hope were the two biggest names he recalls visiting troops during his time in Japan.
But the three years Diaz spent overseas, both in Japan and Korea, are more of a reminder of an enduring love with his wife of nearly 53 years. Diaz and his wife Barbara met in Georgia before he shipped off overseas. They had known each other for only two weeks before they became engaged and he shipped out.
The couple says that they wrote each other every day during his three years overseas and were married upon his return in 1958. While Diaz struggled to find a job after his return to the United States, the young couple eventually settled in the Yakima Valley and has made Sunnyside their home since the 1970s.
When the sad news of Russell's death reached the Diaz's, out came the photo albums and the snapshot taken of Russell in 1957 with Diaz in the background. The couple says they were fans of Russell's and both named her break out role in Howard Hughes' The Outlaw (1943) as their favorite film.