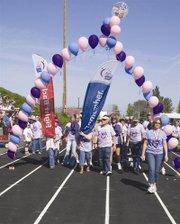 Relay for Life is set to return for another fabulous fundraiser at Grandview's Rich Leenhouts Stadium. The event pulled in $85,000 last year, but this year's organizers have set a $90,000 goal and they invite the community to join them in making that goal a reality.
Relay for Life is an annual affair in the Lower Yakima Valley. All money raised at the 24-hour event is donated to the American Cancer Society.
"It's a great way to...fight back against a disease that affects a lot of families," said Curtis Campbell, Chairman of the Lower Valley Relay for Life Committee.
Campbell is one of the many Americans who understand the devastation cancer can wreak upon a family. He recalls caring for his grandfather when he was just 15-years-old.
"It's something that is totally beyond your control," Campbell said. "You can't choose not to be in this situation."
Doing Relay for LIfe, he added, is something that gives you some control in something that is uncontrollable. The American Cancer Society is the biggest cancer research center in the world. Money raised for the organization allows researchers to continue their work toward better treatment and a cure.
"What better investment for the future is there than to raise money toward that goal?" said Campbell.
Relay for Life accepts teams of up to 15 people. Friends, families, coworkers and classmates can get a team together and raise money in any way they'd like.
"There is no wrong ways to raise money," Campbell said. Teams have been known to stage bake sales, yard sales, car washes and barbeques to raise funds. They can also sell handcrafted items or simply ask family and friends for donations.
The event itself will start at 9 a.m. on Saturday, May 14, and end at 9 a.m. the following day. Registration is $150, which will pay for team t-shirts and will be included in individual team goals.
Campbell adds that Relay for Life is a great community event for everyone. Rich Leenhouts' football field will be ripe with activity, with entertainment, games and people selling goods to support the cause.
"It's a really good family event," he says. "Even if you don't get registered, you can come and check it out."
People are encouraged to find out more by visiting www.relayforlife.org/grandviewwa.
They can also call Campbell at 509-203-4801 or Team Development Chair Jaclyn Kendall at 509-710-5549.
Campbell also invites people to attend team captain meetings held at the Best Western Grapevine Inn in Sunnyside. The meetings are held every second Thursday of the month. The next one will be on March 10 at 6 p.m. Campbell says attending the meetings are a great ways to get fundraising ideas from other teams, receive help and other resources, and plan for the event.