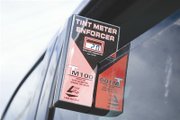 Law enforcement officers encountering a vehicle with windows tinted beyond the legal limits are concerned about their personal safety.
Because the issue is a growing problem, the Sunnyside Police Department will soon be increasing enforcement of laws dictating legal window tinting.
That's according to Officer Jaime Prieto, who said windows that are too dark prevent officers from seeing what occupants inside a vehicle are doing. "We don't know if they have a weapon," he said.
For that reason, he said, officers are at risk and must take extra precautionary measures to ensure their own safety when conducting a traffic stop.
Prieto said there are limits to which windows can be tinted and how dark the windows can be. The maximum allowable reflective tinting is 35 percent. "That 35 percent is the amount of UV light that penetrates the screening," he said.
He said all but the windshield can be tinted, but at least 24 percent of light must be transmitted through the windows. Vehicles with tinted driver's and front passenger windows must also have rearview mirrors on each side.
The only color allowable by law, said Prieto, is black tinting and the rear window cannot have anything brushed or sprayed on it.
"There are exceptions to the tinting laws," he said.
Law enforcement, emergency vehicles, passenger buses and hearses can have darker tinted windows as long as rearview mirrors are on the vehicle.
"Licensed installers of tinting should know the laws and are required to place an identification sticker on the driver side door post," said Prieto.
He said the problem has been more prevalent with after-market products. The vehicle owners purchase the products or have an unlicensed individual install the tinting materials.
Prieto said there are benefits to tinting a vehicle's windows. Most vehicle owners, he said, tint their windows for privacy purposes. Another benefit of tinted windows is to deflect glare, which is a safety measure.
The Sunnyside Police Department, said Prieto, respects those benefits.
He said citizens with tinted windows are urged, however, to make sure the level of tinting on their windows is within legal limits.
The Sunnyside Police Department, Washington State Patrol or a licensed installer can measure the level of tinting for community members wishing to ensure they meet the requirements.
An emphasis, said Prieto, is set to begin in the month of April. Drivers of vehicles with windows that are too dark, beyond the legal limit, will be issued a $124 citation.
- Jennie McGhan can be contacted at 509-837-4500, or email