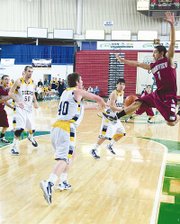 YAKIMA - The best hope Grandview has at the 2A State boys basketball tournament at the Yakima Valley SunDome is to earn fourth place honors after a disappointing quarter-final loss to Burlington-Edison yesterday.
The Tigers came out on top 47-37 because, try as they might, the Greyhounds couldn't capitalize on their shots.
Grandview's field goal percentage was a low 32 percent. The Tigers went 42 percent on their 2-point attempts.
Burlington-Edison also outhustled the 'Hounds 39 to 20 on the boards.
Although Grandview tried to make magic happen from beyond the three-point arc, nothing was clicking like it had during the regular season. The 'Hounds scored on 5-of-20 long distance shots. Two of those three-pointers were made by Adrian Vela. Tony Vela, Daniel Nielsen and Adrian Reyes made the other three baskets.
Grandview opened the game with an 8-4 run, and continued the momentum in the second quarter outscoring the Tigers 13-10 to lead at halftime by seven points.
It was in the second half that Burlington-Edison was able to chip away at the lead. The 'Hounds were only able to score three points in the third quarter. The Tigers tossed in 11 points to take the lead, 25-24.
The final nail in the proverbial coffin was hammered in with Burlington-Edison outshooting and outscoring Grandview by a 22-13 margin in the final stanza.
Grandview's Adrian Vela and Nielsen combined for 16 points, with eight points each. Vela and Schrank each contributed seven points to the team's tally. Tony Vela also provided six assists.
It was Will Stewart and Dylan Boe of Burlington-Edison who inflicted the most damage against the Greyhounds. The pair combined for 26 of the Tigers' 47 points. Stewart scored on 5-of-6 free throw attempts and tossed in four field goals. Boe sunk six two-pointers and one free throw.
Defensively, Grandview came up with nine steals against the Tigers. The 'Hounds could only muster 14 rebounds in the game, a team-high five boards by Schrank.
Burlington-Edison was able to grab 24 balls from the glass.
Grandview (23-3) dropped into the consolation bracket as a result of the loss and today (Friday) was scheduled to play River Ridge at 9 a.m. A victory today would propel the 'Hounds into the fourth/sixth place trophy round game tomorrow (Saturday) at 8 a.m.