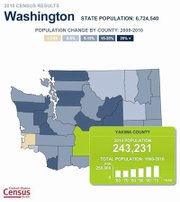 Bickleton is shrinking and Grandview's growth is putting the city on a path for more state regulation.
That's according to 2010 Census figures recently released for Washington state.
Grandview's population grew by more than 20 percent since 2000, from 8,377 to 10,862 according to the latest Census figures.
Having a population of more than 10,000 residents means Grandview, like Sunnyside, will have to take costly state-mandated measures to address potential stormwater run-off.
Bickleton, on the other hand, lost nearly a quarter of its population between 2000 and 2010. The unincorporated area now stands at 88 souls, down from 113 in 2000.
The latest head count shows that overall Yakima County picked up nearly 21,000 residents since the 2000 Census for a population of 243,231.
Census figures also show that the Hispanic population made gains in Yakima County and around the state. In Washington, the 2010 tally shows a Hispanic population of 755,790, or 11 percent of the state's population. That's up from 441,509 Hispanics in the state back in 2000.
In Yakima County, the latest numbers show Hispanic growth from 79,905 (36 percent of the population) in 2000 to 109,470 in 2010 (45 percent).
The Census figures do not distinguish between population that is in this country legally or illegally.
Of the 6.7 million people who call Washington home according to the 2010 Census, about 72 percent (4.8 million) are white. That's down slightly from 78 percent in 2000.
In Yakima County the white population numbers 116,024 (48 percent of the population), which is down from 125,733 (about 56 percent) in 2000.
As with Grandview, the 2010 Census figures also show double-digit population growth in other Lower Valley cities.
Sunnyside's population now stands at 15,858, up about 15 percent from 2000's 13,905.
Mabton's growth topped 20 percent, as 2010 figures show the town with 2,286 residents compared to 1,891 in 2000.
Census figures have not yet been released for all 50 states, and the agency in months to come will provide additional demographic information.
The U.S. Census is held every 10 years to aid with apportionment of representation in Congress. Based on Washington state's gain of nearly one million people since 2000, the state will pick up a 10th seat in the U.S. House of Representatives.