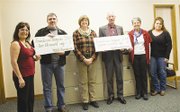 Two grants were presented yesterday to the Foundation for the Community of Sunnyside by Pacific Power Foundation and Cascade Natural Gas representatives.
The Pacific Power Foundation presented the Foundation for the Community of Sunnyside, a non-profit group working to establish a revitalization plan for Sunnyside's downtown corridor, with a grant in the amount of $1,500.
Cascade Natural Gas' Montana Dakota Utilities Resources Foundation awarded the Sunnyside organization $2,000.
Sue Jetter is the grant writer for the Sunnyside revitalization project and said the monies will be spent on the first step of establishing the group's plan.
"The project will consist of selecting and hiring a consultant to facilitate meeting with property owners, business owners, key agency representatives and the public to identify a shared vision for downtown," she said in a press release.
The final product, said Jetter, will include a summary report of information collected, an artist's rendition of a revitalized downtown Sunnyside and recommendations for the next step toward "establishing a formalized plan."
She continued, stating that plan will be used for approaching community groups and potential contributors.
The long-term benefits, said Jetter, are expected to include commercial vacancy rates, improved infrastructure, more attractive streetscapes, building integrity and community pride. Other benefits of the revitalization project will be a unified business district and increased sales tax revenues.
The effort is intended to make Sunnyside's downtown more prosperous and attractive.
Planning for the applications for the two grants presented yesterday was completed through a partnership with the city of Sunnyside, the Sunnyside Chamber of Commerce and the Port of Sunnyside.