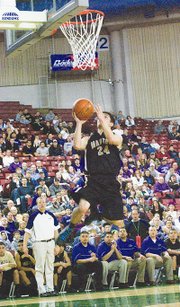 YAKIMA - Being the smallest team at State has its drawbacks. The Mabton Vikings rolled through the SCAC East field this season despite the fact not one player on the team was more than six feet in height.
The Vikings used its speed and quickness, plus great coaching, to post an undefeated league record. The Vikings almost won the District title, losing to Granger in overtime. Mabton entered the State tournament with a win at Regionals in a loser-out game.
At State they were poised to use their quickness to run havoc against the bigger teams, but that didn't happen.
Mabton lost on Thursday to Cascade Christian and then fell to the Nooksack Valley Pioneers on Friday, 57-44. The loss sent Mabton home from the State tournament for the second straight year without a trophy. But that doesn't diminish what the Vikings have done this year.
"We're happy with our season," Mabton Coach Brock Ledgerwood said. "Anytime you can be in the top eight in the state, you have to be happy."
Friday's contest was a lot like Thursday's. Ledgerwood said his team had good opportunities to make good shots but just couldn't get the ball to fall in the hole.
Mabton actually led 12-10 after the first quarter thanks to Josh Sanchez and Kristian Carrasco.
But the game changed in the second period. Mabton started missing and the Pioneers started making their shots. Nooksack Valley outscored Mabton 16-4 in the second and led 26-16 at halftime.
Mabton played even with the Pioneers in the second half, but had to come back time after time. The Vikings got to within nine points with 1:58 left in the game, but couldn't get any closer.
The Vikings were hurt on the boards. The Pioneers grabbed 44 rebounds, including 10 offensive ones to lead Mabton in that category. The Vikings were able to pull down just 24 rebounds, 11 of them offensive.
Shooting percentages also hurt the Vikings. They were just 25 percent from the field, 15 percent from the 3-point arc and 70 percent from the charity stripe. Nooksack Valley, on the other hand, shot 53 percent from the field and 69 percent from the free throw line. The Pioneers attempted only one 3-point shot and missed it.
Carrasco led the Vikings in scoring with 22 points. Sanchez added eight points for the Vikings and both Jesus Huecias and Carmen Johnson had six points. Josh Strickland added two points.
The Pioneers were led by Kyle Impero with 27 points, his season average. Kyle Handy added 11 points, Evan Roller scored nine points and both B.J. Salmonson and Tyler Perry had four points.
"This is a special group of kids, one of the best we've had," Ledgerwood said of his team. "I'm really satisfied and proud of how the kids did this year."
Mabton finishes the season with a record of 20-7.