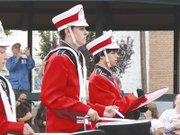 They're at every football and basketball game, every pep assembly and every parade. They represent the Sunnyside Grizzlies and the community with pride and enthusiasm - they are the SHS band.
It takes much more commitment to be a member of the Sunnyside High School band than just playing an instrument. Many of these students dedicate four years to their practice and sacrifice a great deal of their personal time.
They are always committed to school pride and are always practicing to compete against other schools for top honors.
But this month, the students involved in the Sunnyside High School band are preparing for a new type of adventure. Every four years, students in the high school band program get the opportunity to go to Disneyland, but for some students, the $450 fee for the trip has been a struggle to collect.
Over the last four years, students in the band program have dedicated themselves to raising money. Through baked potato and pizza feeds, by selling cookie dough, Pepsi and Papa Murphy cards, these students have worked hard to raise money for themselves and for each other.
"They've raised the money. They're the ones doing the hard work," said Paula Wyatt, the band's booster club treasurer.
Wyatt, whose son is a senior with the band, has been a member of the parent booster club for four years and she marvels at the way these students represent the community.
"These kids are so overlooked," she said. "They are a great bunch of kids. They are dedicated to the music and they are dedicated to the program."
Wyatt said that she has gotten the opportunity to spend plenty of time among these students and is always amazed at how well behaved and helpful they are.
One time, when the band was staying at a hotel for an out-of-town parade, Wyatt says she saw a hotel customer open his door and yell at some passing band students to be quiet.
"They just said, 'I'm sorry, sir. We'll keep it down'." Wyatt recalled. But the noisy students weren't the band kids, she explained. The hotel also had a soccer team from another town staying and they had been the ones playing in the halls and making noise.
But Wyatt was struck by how polite the band students were.
"I was just never so pleased in all my life," Wyatt said.
And now Wyatt is eager to see that they are able to take as many band students as they can on the Disneyland trip. With the charter bus, the program can take 50 students, and so far 40 have raised enough money to go but the deadline is fast approaching. Money is due this week.
Wyatt says she hopes that community members, possibly former band parents, might step up and sponsor a band student.
"We have some kids who are really close and haven't met their goal yet," Wyatt said.
For more information on how to sponsor a band student, Wyatt asks that people call her at 509-839-2810.