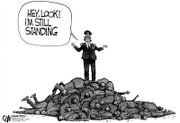 Two ongoing wars, an economy that's in the tank, a national deficit that seems to double every year and now, rising gas prices. These are just some of the things that affect Americans.
How can we muddy the waters even more? How about military action in Libya?
I've been dumbfounded watching some of our national leaders lobby for a U.S. led no-fly zone over Libya. Why would we do this?
For those out of the loop, the recent Middle East trouble has spread to several countries, Libya included. It seems the people over there are tired of living under the thumb of a ruthless dictator.
Muammar al-Qaddafi has been a name most Americans over the age of 30 have known for a long time. Who can forget President Reagan's attack of the terrorist in the early 80s?
For a while, if someone wanted to portray a terrorist, the criminal was usually cast as a Libyan. Remember Back to the Future?
We haven't heard much from the Libyan leader lately, but since his people have caught rebellion fever, that country is in chaos.
Qaddafi is responding in the usually brutish way thugs are known for. He's killing his own people, using his air force and military to strike them down.
To be sure it's wrong. But what do we do about it? It seems to me the problem is one for the Libyans. I see no reason we should spend money using military action against Libya. What would it do? We would wipe out Qaddafi and then we'd be dealing with some other kook. At least we know the kook in power now.
I'm not saying we shouldn't support the rebellion, but we shouldn't do it with our military or our money.
Wouldn't OPEC be more appropriate to deal with the Libyan situation? How about Europe?
Maybe if we went into Libya, freed the country from Qaddafi, took all of Libya's oil as payment, then I might be for military action. But that's not going to happen.
So let's keep our nose out of where it doesn't belong. This is a problem for Libyans, let's leave it to them.