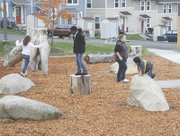 MABTON - The design is in place and now the community of Mabton is asking for donations and volunteers to complete its new park.
The Mabton Community Park is a project citizens have been working on with the assistance of Catholic Charities Housing Services and the Pomegranate Center.
Designs for the park include a natural playscape, an amphitheatre, a volleyball court, a play field and a picnic shelter. Also planned for the park is a skate park.
Three phases of the project have been decided upon. The first phase involves grading the site, installation of an irrigation system, establishing the play field and pathways, laying concrete for the picnic shelter and a bathroom, building the volleyball court and building restrooms with a water fountain.
The second phase of the project is expected to include construction and installation of the various elements of the park. And, the third phase will involve planting vegetation and the development of a skate park.
Donations for the project are being sought and organizers are hoping businesses, farmers and individuals will help.
Materials needed include hops posts, concrete, wood stain and shade cloth banners for the gateways to the park. Hop posts are also being sought for a fence, a rain trellis and the picnic shelter.
Cable and steel footings are needed for the shelter.
Salvaged wood and wood stain are needed for picnic tables.
Also sought is exterior latex paint and paint brushes.
For the natural playscape, park designers are looking for trees, logs, rocks and playground wood chips.
For each of the elements in the playground there are several volunteer opportunities, including sanding, carving, staining, painting and assembly.
In addition, the group working on the park is working with Banner Bank to sponsor a logo design contest. The winner of the contest will be given a $250 prize, courtesy of Banner Bank. The contest is open to all members of the community and the deadline is tomorrow (Thursday). Design ideas must be submitted to Mabton City Hall by 4 p.m.
The next community park meeting is scheduled for Monday, March 14, at 6 p.m. at the New Life Villa Apartments, located at 708 Washington Street.
For more information, contact Catholic Charities Housing Services at 509-853-2800 or email Laura Armstrong at larmstrong@cchsyakima.org